Telegram is a free and open source, cross-platform, cloud-based instant messaging (IM) software. The service also provides end-to-end encrypted video calling, VoIP, file sharing and several other features. It was launched for iOS on 14 August 2013 and Android in October 2013. After WhatsApp, Telegram is one of the most used apps across the world. Recently, Telegram introduced a set of new features in their biggest update. Let's have a look at the new features of Telegram.
Group Video Calls
Turn any group voice chats into a group video call by tapping the camera icon to switch your video on. Tap on any video to make it fullscreen. If you pin a video, it will stay focused as new users join the call and turn on their cameras. "While audio-only participants are unlimited, video is currently available for the first 30 people who join the voice chat. This limit will increase soon as voice chats take on streaming games, live events and more." says Telegram.
Screen Sharing
Participants in a group video call can also share their screen while also sharing their video feed at the same time.
Noise Suppression Options
Telegram says: "We've improved noise suppression in voice chats to keep everyone's audio clear and crisp, even when you're eating something crispy. We've also added a toggle to turn noise suppression off in settings – for those times when munching has meaning."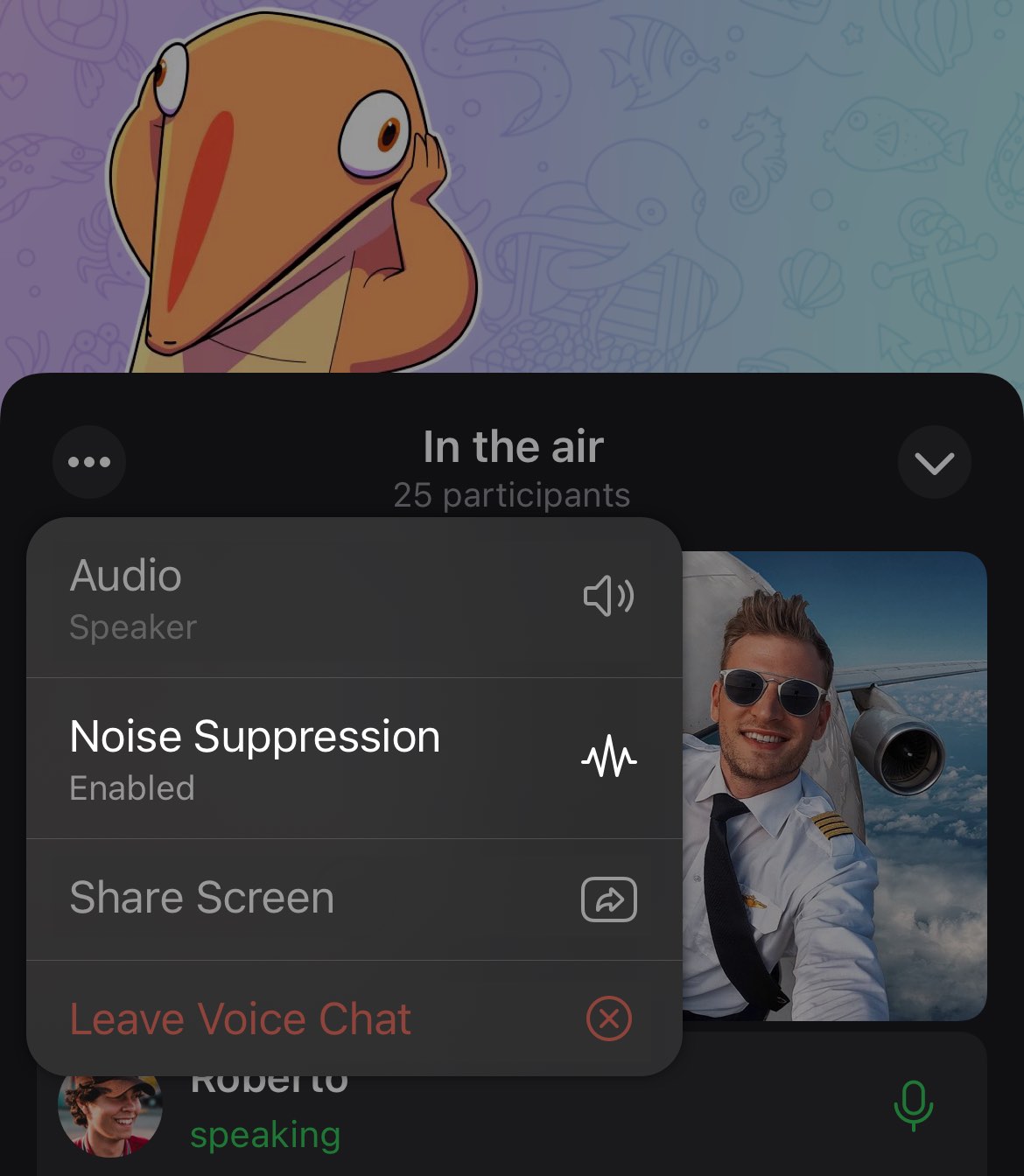 Tablet and Desktop Support
Tablets and computers now have more screen space and will also offer more display options. Tap to open the side panel and see a split-screen view of the video grid and list of participants, optimized for both portrait and landscape orientation.
On desktop, voice chats can be opened in a separate window which will allow users to type and talk without minimizing anything. The desktop app also supports 'Selective Screen Sharing' which allows users to broadcast an individual program instead of the whole screen.
Animated Backgrounds
"Meet animated backgrounds for chats – first time in a messaging app! These multi-color gradient wallpapers are generated algorithmically and move beautifully every time you send a message." says Telegram. Users can find more animated backgrounds in settings.
For Android: Chat Settings > Change Chat Background.
For iOS: Appearance > Chat Background.
Creating & Sharing Backgrounds
In case the default options are not enough, users can also create their own animated backgrounds. Choose three or four colors to unlock the animation, then add an optional pattern for extra style. The customised backgrounds can even be shared with friends and family.
Message Sending Animations
"Stickers and emoji now seamlessly hop from your keyboard into the chat – with lightweight animations that won't affect your battery.", says Telegram. "On iOS, this also applies to media you send from the attachment panel, and even text messages. Your input text smoothly transforms into the message bubble as it flies into the chat."
New Animated Emoji
Telegram says: "This update is all about motion, so we couldn't go without new animated emoji. As always, simply send a message with a single emoji to get one of these in a chat:"
Bot Menu
Telegram has made it easier for its users to have conversations with bots by creating a special bot menu that lets them browse and send commands.  Bots can also change the placeholder in the input field to give users a better idea of what kind of message they are expecting. Telegram says: "Bot developers can now create commands that change based on a user's interface language and chat type, as well as special commands that only appear in specific chats or for admins."