Twitter is attempting to make it easier for users to share tweets outside of its own platform, with the addition of a new WhatsApp sharing button for users and a new LinkedIn sharing option with a dedicated tweet presentation in the app.
First, let's talk about the new WhatsApp button, given that WhatsApp is by far the most popular messaging app in India (487+ million users), Twitter is trying out a new, dedicated WhatsApp share button in the lower tweet function display in an effort to capitalize on usage.
As you can see in the tweet given below, Twitter India has announced its new update. Some Indian Twitter users are now able to quickly share a tweet with their WhatsApp contacts thanks to the new addition of a WhatsApp icon that has been added in their tweet engagement options.
some of you might see a WhatsApp Share icon and if you do, let us know what you think pic.twitter.com/Y23vWUPTs1

— Twitter India (@TwitterIndia) September 8, 2022
On a different front, Twitter has added a new sharing option for tweets to LinkedIn in addition to enabling tweet sharing to Snapchat and IG Stories on Android (previously only available on iOS).
This will give you more options for sharing relevant tweets on users' preferred platforms and help Twitter keep track of such activity rather than people sharing screenshots of tweets, which are still very popular.
Twitter really wants to keep track of that information because it is still of the opinion that millions of people read tweets each month but never actually login into the app.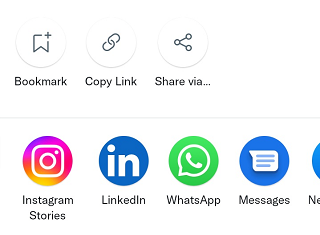 According to Twitter, The theory is that tweets significantly increase influence and engagement. over 500 million 'logged out' users browse tweets each month without being logged in.
It'll be interesting to see if these new share buttons end up providing more information on this aspect.