It has been a year already since the launch of Instagram reels in India, and with that more features were slowly-slowly added to it. July 8, 2021, marks the first birthday of the reels, and we can't be more ecstatic! To celebrate it, Instagram and Roxanne Chinoy clubbed together and provided the creators with special Instagram merchandise, stickers, and information to wish #HappyBirthdayReels!
Have a look at Instagram reels special box that Indian DJ Nikhil Chinapa received:
Well, aren't these merchandise pretty cool? Selected creators were lucky enough to get their hands on it. But, don't worry! There's something for everyone else too that Roxanne a.k.a 'ladyroxpop' shared on her Instagram story. Firstly, you can celebrate reels' birthday in three ways!
The Reel I Never Posted
Go and post any reel that you had shot previously but didn't upload. Now's your time to wish #HappyBirthdayReels in your own way and be happy!
My First Reel
Remember the first-ever reel that you posted? Remix it! Rees has upgraded a lot from its initial launch and so have your skills. Check out how you've come so far and refresh your happiness with the remix option.
Reels Bloopers
Not all picture-perfect reels attract netizens. The bloopers do a great job too! Audiences love to see the BTS moments, failed attempts, and the process of making a reel. It's actually pretty interesting! So, post your reel's bloopers too.
What? Do you think that's all? No way! It's time to have a glance at all the stickers Instagram launched for reels' birthday!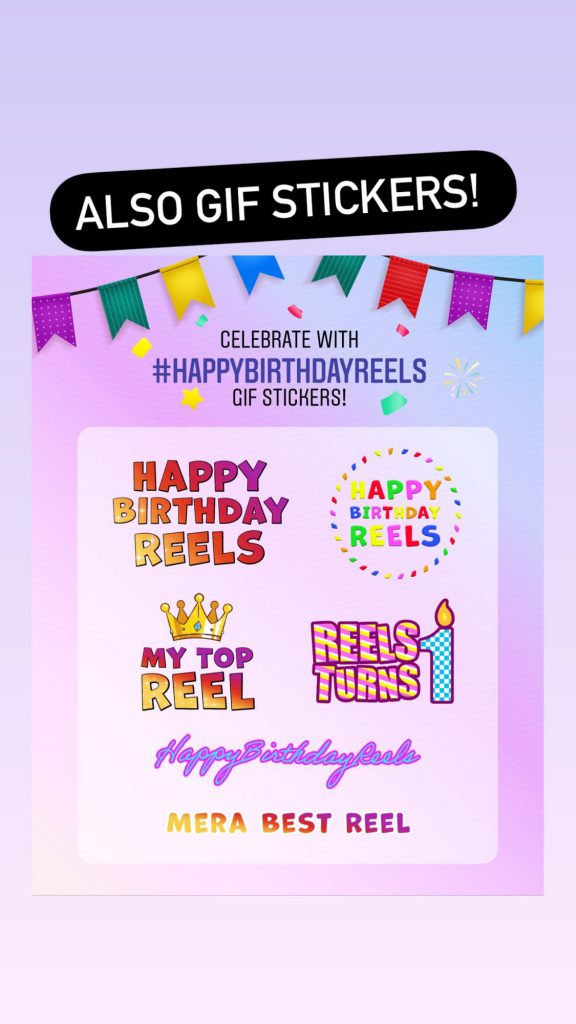 These six aren't the only stickers. Roxanne shared some more! So wish reels its first birthday with these collections of colourful stickers! You can find them by searching 'HBD Reels' in the sticker tray.
Also, have a look at the popular tracks, hashtags, local and global trends:
The whole experience of Instagram reels was wonderful! From creating transitions to using amazing filters, reels provided a large base to many creators for showing and promoting their talents. Keep on hustling creators and Happy Birthday Reels!