Carrying on the trends of music. YouTube launched YouTube Music, its very own music streaming service developed by YouTube, a subsidiary of Google. YouTube music provides a tailored interface for the service, oriented towards music streaming, allowing users to browse through songs and music videos on YouTube based on genres, playlists, and recommendations.
In their latest issue titled "Don't Stop Music", Jason Robinson the Product Manager of YouTube Music announced an introduction of a new YouTube Music app listening experience.
"From introducing personalized mixes for your everyday moods and moments to bringing you the most popular music from every part of the globe, YouTube Music looks to provide its users with the most immersive music experience imaginable. Every new update to YouTube Music begins by listening to people, and we've heard you loud and clear: Keep the music playing." says Jason Robinson.
YouTube will begin rolling out background listening to music listeners in Canada, free of charge, from November 3, 2021. This update will allow people to continue to listen to YouTube Music while using other apps and also when the users' screen is off. Through this update users can engage with the YouTube Music app through an exciting ad-supported, radio-like experience featuring the artists, songs, and albums they love, along with personalized mixes on shuffle. All of this without the hassle of having to keep the YouTube Music app open on the device.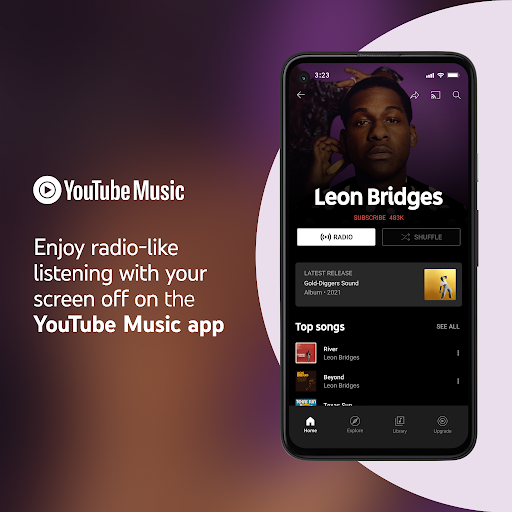 Here's what you'll get:
(Source: YouTube)
Listen to your music in the background: You can now keep your music playing after minimizing the app or turning off your screen. Go on a run, answer a text, or check some emails without stopping your music.


Enjoy continuous stations and shuffle: Dive into this new playback experience with continuous radio stations based on your favorite songs, albums, and artists. Further your listening through personalized playlists on shuffle, like Mixed for you on the Home tab, which features mixes inspired by your ever-changing music ecosystem. If you've uploaded songs on the YouTube Music app, you can continue to play them anytime, and you can also keep streaming music and videos, on-demand, with the YouTube app.


Focus on what's important:

With Google Assistant driving mode, drivers can now keep their focus on the road while staying safe and entertained with a hands-free YouTube Music experience.
Stay tuned and Happy listening!