Society often puts men in boxes and anybody who steps out of it slightly is deemed misfit. However, nowadays men have been increasingly shattering these stereotypes and choosing a role based on their convenience and choices. They do not believe in conventional definitions of masculinity and neither do they hail toxic masculinity. This International Men's Day, we spoke to changemakers Shashank Shetty- a stay at home dad, Anmol Sood– a Kathak Dancer and Aditya Tiwari– a Single Adoptive Parent who have picked up on traditional women dominated boxes and proved that #RealMen exemplify a shift in the mindset. Join us as we explore their journey and showcase how their choices and lifestyles reflect the diverse spectrum of masculinity.
Aditya Tiwari- A Single Adoptive Parent
SN: How did the thought of adopting a child as a single parent occur to you?
Aditya: I was informed by the caregiver at the orphanage that no one wants to adopt this child due to his special needs. So, I made the decision to adopt this child. He was left in an orphanage by his biological parents immediately after birth when they learned about his condition.
Ultimately, the decision to adopt a special needs child as a single parent is deeply personal and varies from person to person. It often involves a combination of empathy, readiness, a desire to make a difference, and a strong commitment to providing a loving and supportive environment for a child in need.
SN: Do you think it is difficult for a man to raise a child as a single parent in India?
Aditya: In India, it can be challenging for male single parents to adopt a child as there is a prevalent bias against males being considered suitable parents. The preference is often given to females when it comes to single-parent adoptions. Male single parents are typically restricted to adopting boys and are not allowed to adopt girls, whereas females have the flexibility to adopt children of either gender.
SN: What is the one thing that was the most challenging in bringing up Avnish?
Aditya: I faced challenges in the process of adopting Avi, but parenting him has not been difficult. He is teaching me how to become a parent and how to raise a child with special needs.Despite the lack of societal acceptance, education, medical support, and employment opportunities for people with intellectual disabilities in developing countries, it is crucial that we work towards creating a more inclusive and supportive environment for them. Thanks to Avi's parenting teachings and our shared exploration of life, I was honored with the World's Best Mother Award on International Women's Day in 2020.
SN: How did you deal with 'log kya kahenge'?
Aditya: The fear of societal judgement or "log kya kahenge" is a common concern that affects many people's decisions and actions. I disregard others' opinions of me if I am confident that what I am doing is correct and beneficial for the well-being of others and my nation. Instead of wasting time worrying about what others will say, I prefer to focus on progressing the work.
SN: Can you give us a peek into a regular Sunday that you spend with Avnish?
Aditya: Sunday is not a therapy day for us. Instead, we take the time to rest and explore new places. We often visit the mall for shopping, which Avi particularly loves. Additionally, Avi has a food bank for street animals and people living on the streets. Every Sunday, he distributes food to them. Once a month, on weekends, we travel to other cities or states to raise awareness for disability rights.
SN: Can you describe your journey with Avnish to the top of Mount Everest?
Aditya: Trekking to the highest peak in the world, Mount Everest, was an amazing experience. He spent over a year training at high altitudes and in low temperatures to acclimatise his body for the trek. He undertook this challenge to advocate for the rights of orphans and people with disabilities.Previously, children with intellectual disabilities had not attempted trekking to high altitudes. This experience served as an eye-opener for many people, including those with intellectual disabilities, orphans, caregivers, and parents. It demonstrated that children with disabilities can also explore and conquer mountains.
SN: On International Men's Day – we are running a campaign of #RealMen – what according to you is the best definition of Real Men?
Aditya: It is important to recognize that parenting qualities are not limited to any particular gender. Everyone, regardless of their gender identity, can exhibit these traits. Embracing these characteristics can contribute to fostering healthier, more positive notions of masculinity and promoting a more inclusive society on International Men's Day and beyond.
Ultimately, the definition of a "real man" should focus on inclusivity, kindness, respect, and the rejection of limiting stereotypes, allowing individuals to express themselves authentically while contributing positively to their communities.
Anmol Sood- A Kathak Dancer
SN: On International Men's Day, we are celebrating #RealMen who are unafraid to embrace their passions without any inhibitions, so can you tell us a little bit about your journey of embracing Kathak?
Anmol: I didn't embrace Kathak, I'd say Kathak embraced me. I have been a dancer since my childhood. I used to do folk dance from my native state of Himachal Pradesh. After my senior secondary, I shifted to Punjab for my graduation and in the youth festival there I got to know that there's a dance form called Kathak. That day I explored the internet about Kathak and stumbled upon Kumar Sharma's videos who happens to be my guru now. Call it luck, one of his students was my junior in the university. I approached him and started learning a few choreographies from him and performing as a duet in the competitions and slowly won those competitions.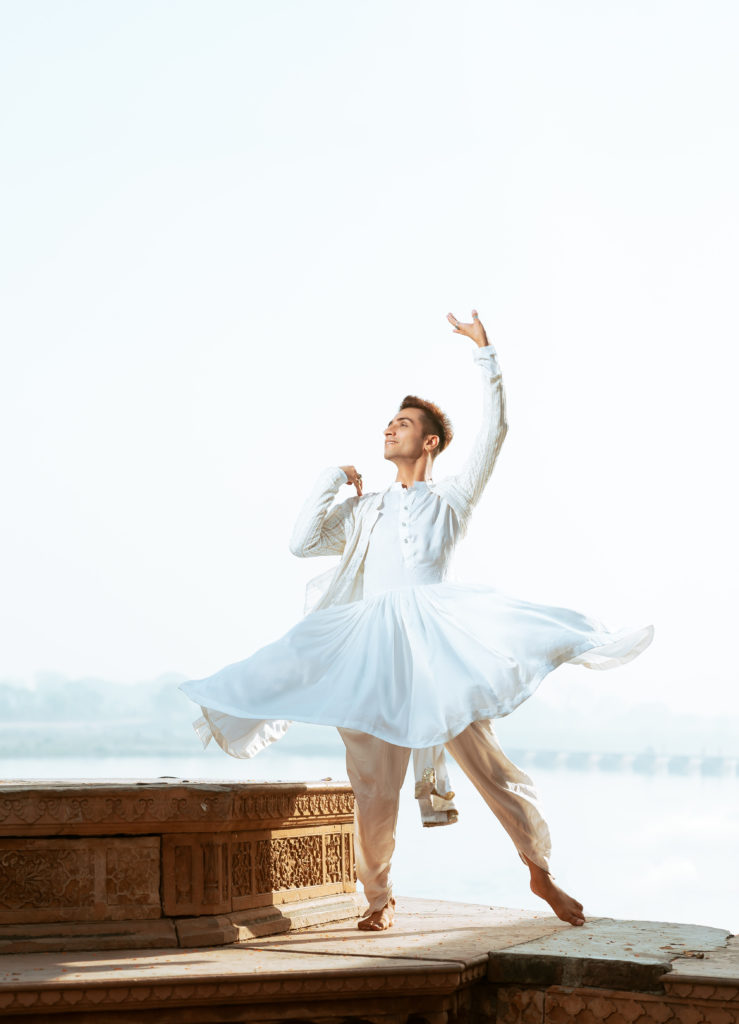 It definitely boosted my confidence and I kept on learning from YouTube by observing all the videos which were available to me. After my post graduation from the same university, one day he called me up and said that Kumar sir needs a performer for his group for a corporate show and I immediately said yes(though I was very very nervous). It was back in 2016 and since then I've been performing all over India and world with Kumar Sir and have been learning from him since then. I've performed in many prestigious festivals and also got featured in a TVC for ebay India
SN: Do you think it's tougher for a guy to learn classical dance with regard to judgment from society?
Anmol: Yes of course, it's really hard for a guy to learn classical dance. Many families want their sons to be in the 9-5 corporate race and they don't think that being a dancer is a profession. They think of it as a hobby and want it to stay a hobby until school/college days. And if a guy takes up classical dance as a hobby, they discourage him to give it up and join some other activities. They worry that their son might end up being effeminate.
Just as women talk about the glass ceiling in the corporate world, many men face it in the field of classical dance. That's also one of the reasons men feel discouraged to learn classical dance or feel forced to give up mid way. Male dancers don't have it easy when it comes to classical dancing.
SN: What was the biggest hurdle in your journey of becoming a Kathak dancer?
Anmol: I won't say I didn't face any hurdles but yes, those were not as big as many other people might have faced. I have always listened to my heart whenever it comes to my profession. But of course I've had a few leg pullers in my life who kept on telling me that I should stop all this. I have also heard that I have wasted my father's money which he spent on my engineering and management studies. So yes, there have been few hurdles in my journey, but then, these hurdles are what makes your journey more fruitful. You tend to work even more harder to tell them, "see, this is what I do"
SN: Indian classical dance is often stereotyped as a female-dominated dance, do you think this notion is changing gradually?
Anmol: Yes, the notion of classical dance being a female dominant field is changing rapidly and positively. I think all this is possible because of social media. People see this ancient dance form is emerging and helping people to be stable financially as well. Nowadays, I see more men coming up and learning all the classical dance forms. Even, we as a crew (Kathak Rockers) get so many messages and videos of men saying they want to join in the group and want to learn classical dance. To be honest, it feels great when you get a message or a comment saying "Thank you for inspiring us to learn Kathak".
SN: In a country that looks up to Pandit Birju Maharaj but still fears letting their sons learn Kathak, what is the advice you would give the parents?
Anmol: Art is a blessing of God. Be it dancing, singing, fine arts or anything, no one can teach you until and unless you have a part of it inside, given by the almighty as a gift. We just need to nurture it well under proper guidance. To all the parents who are reading this, I just want to say, let your sons learn the art of classical dancing if they are into it. Encourage them, support them and give wings to their ambitions. You never know, they might end up being a legend in this field.
Shashank Shetty- Stay At Home Dad
SN: What made you start recording your fatherhood journey?
Shashank: We shared a video of me swaddling up Yuvaan when he was only two months old, and it got really popular with 5 million views. After that, we shared more short videos about our daily life, and our followers got really excited and appreciative.
Within a few days, we had a good number of followers. So, we changed my personal account to a dad blogger account, and now we have a family of over 50,000 followers.
SN: Bringing up children is often stereotyped as a mother's duty, do you feel this is a redundant thought process and why?
Shashank: Many men think that taking care of babies is not their job. In my case, my dad never did things like changing my diaper, giving me a bath, or feeding me when I was a baby. So, I decided to start changing myself first, hoping it will encourage other dads who want to make a change too.
SN: How do you manage work and personal life with Yuvaan as well as Kiwi?
Shashank: I don't plan things much; they just happen naturally. Overthinking can make things more complicated. When you're good at what you do, handling everything becomes easier. Sometimes, we have to make compromises but we always prioritise our personal life because our baby comes first.
Our pet, Kiwi, was a surprise addition. She came into our lives unexpectedly, and we chose to adopt her. Having a pet wasn't in our plans originally, but my wife always wanted one. With Kiwi around, our home is always happy and stress-free. Now, Yuvaan and Kiwi have a great friendship, just like we hoped for both of them.
SN: How do you and your wife divide the duties when it comes to home chores?
Shashank: The word "divide" may not really capture what's happening here, as moms often do many things for the baby. It's more about helping her by being a committed dad and actively sharing the duties.
For example, I make sure to give Yuvaan a massage and a bath almost every day, and for other tasks, it depends on who is available first. If Yuvaan needs a quick cleanup after pooping, whoever is closest at the moment takes care of it. Believe me, sharing the responsibilities makes life easier. It also helps the baby get used to the dad being involved in chores, making them feel comfortable and less fussy.
SN: On International Men's Day, we are talking to #RealMen who break stereotypes, what advice would you give fathers who wish to spend more time with their children but are unable to do so? Any tips?
Shashank: I won't offer advice, but I'll suggest doing it for your own sake. Time passes swiftly and there's no way to revisit it. The memories you forge with your baby today will be cherished forever. Ultimately, it's about finding contentment in what you do.
All you need to do is copy the Mother. See how she puts the baby to sleep, see how she burps the baby, how she swaddles the baby, how she gives a massage to the baby. Once you learn the art, you can easily ace it. So the nursery rhyme for all the new fathers here..
Twinkle Twinkle Little star,
How I wonder what you are,
up above the world so high,
raise your diamond & make them a star.
In a society often bound by rigid gender roles, the stories of Aditya Tiwari, Anmol Sood and Shashank Shetty stand as powerful examples to the evolving definition of masculinity. By embracing these diverse paths, they redefine what it means to be a man, breaking barriers and inspiring others to embrace their authentic selves.