Step into the captivating world of illustration, where a whirlwind of client requests, deadlines, and the burning desire to showcase your incredible talent awaits. How do you ensure that your work gets the attention it deserves? Fear not, we have a list of websites that can come to your rescue like a superhero!
With these carefully shortlisted websites, the possibilities for illustrators are boundless. Furthermore, these websites provide the tools to establish your unique brand identity. With customizable themes, layouts, and branding elements, you can infuse your website with your personal style, creating a cohesive and unique experience for visitors.
Let's explore the incredible advantages these illustration websites offers and how they can be a true game-changer in the lives of illustrators:
Discover Vecteezy, the ultimate platform for illustrators seeking to enhance their creative projects. With a vast collection of high-quality vector graphics and illustrations, it offers a diverse range of themes, styles, and topics to suit any artistic vision. With its user-friendly search and filtering options, finding the perfect illustration for your project becomes effortless, saving you valuable time and energy.
With Vecteezy, you can elevate your illustrations, unlock new creative possibilities, and easily bring your artistic vision to life.
Enter the world of DrawKit and discover the ultimate toolkit designed to ignite your creativity as an illustrator. With the platform's user-friendly search and browsing features, finding the perfect artwork for your designs can be a breeze. It's a place where your creative genius can thrive, enabling users to grow as an artist and explore new horizons.
With DrawKit, you have everything you need to unlock your full potential and create illustrations that captivate and inspire everyone globally.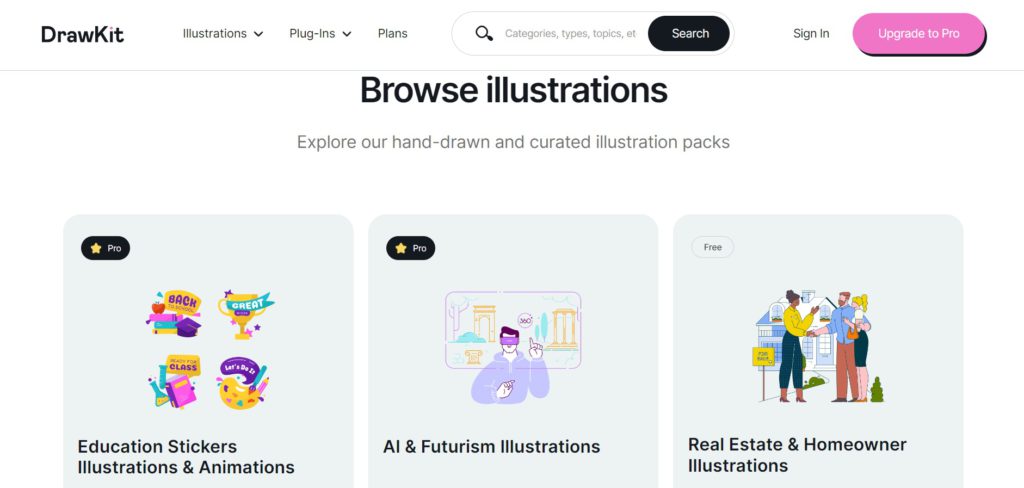 Welcome to Pixabay, the creative wonderland where illustrators find inspiration and turn their artistic dreams into reality. With over 2 million high-quality images, vectors, and illustrations, it is a treasure box of visual resources waiting to be discovered. Whether you're creating a book, website, or personal artwork, you'll find the perfect visuals to complement your vision.
Join a vibrant community of artists, unlock limitless inspiration, and make your illustration dreams come true with Pixabay.
Step into the world of Flaticon, the ultimate destination for illustrators looking to create iconic and eye-catching designs. Whether you're designing a website, crafting a logo, or creating an engaging user interface, it offers an unparalleled selection of icons to choose from. With its user-friendly interface and powerful search functionality, finding the perfect icon for your needs is quick and effortless.
Unleash your creativity, explore endless possibilities, and make your creations stand out with Flaticon, where iconic design dreams become a reality.
So, what are you waiting for? Embrace the magic of these carefully selected websites and unlock the true potential of your illustration career. It's time to soar and create a legacy that will leave a lasting impression in the world of art. The spotlight is yours – let your illustrations shine!