Ed Sheeran, the GRAMMY Award-winning and YouTube record-breaking artist has unveiled 14 YouTube Shorts, giving fans the first full preview of his forthcoming album "=" (Equals), only on YouTube. Here are all the details.
"=" is Sheeran's fourth album in the symbol album series and fans globally are getting first-ever album preview on YouTube Shorts with a glimpse into all 14 tracks ahead of its official release on October 29th. Furthermore fans around the world can also create their own #SheeranShorts to every track on the album.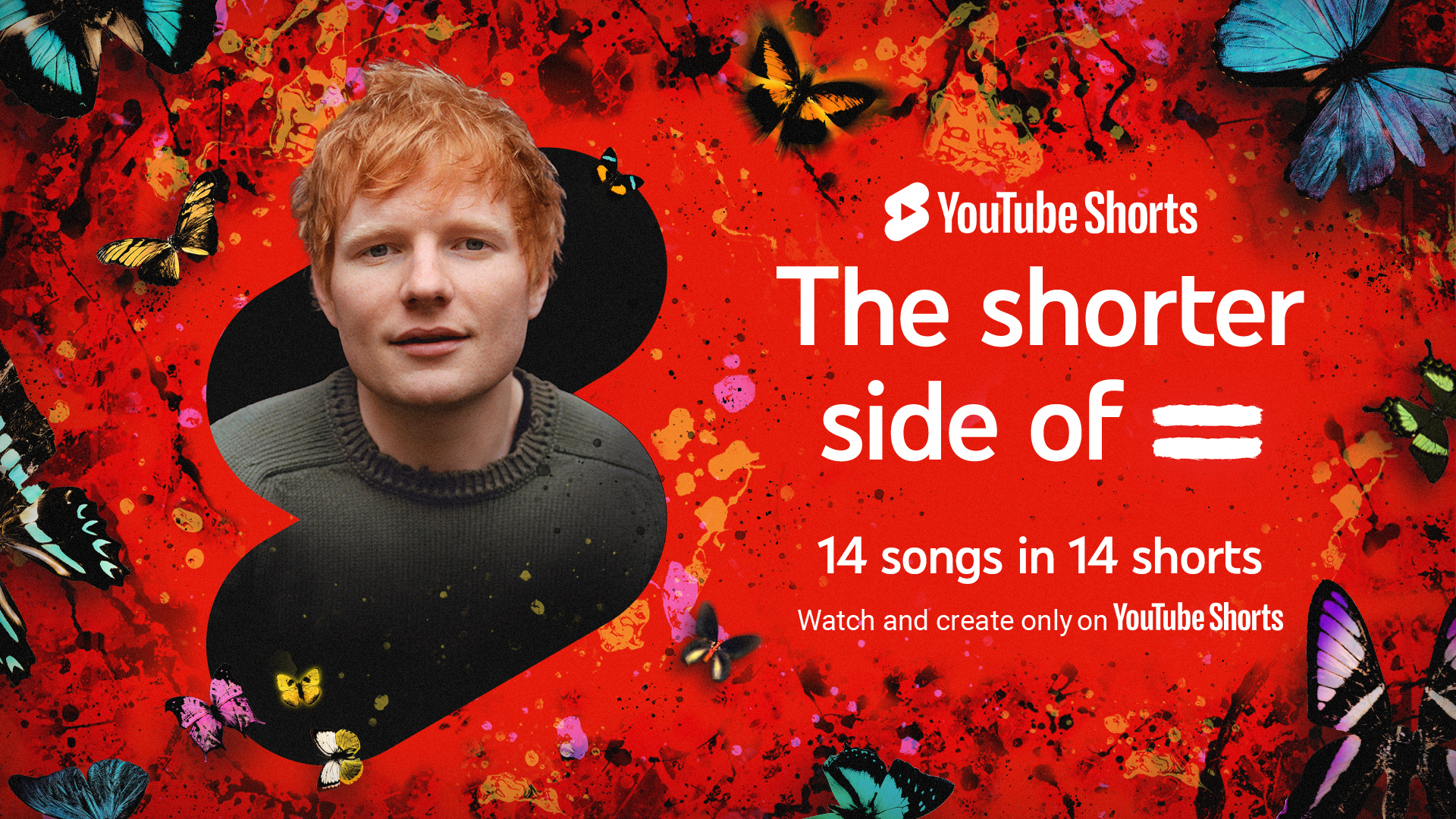 The YouTube Music Team says: The 14 Shorts encapsulate the very personal journey of Sheeran's album — four years in the making — with each one bringing to life the intimate and everyday moments that are reflected in the songs. Sheeran is giving fans a short, intimate look into what each song on "=" means to him, such as stepping into an ice bath in "Shivers," to having a solo dance party in "Be Right Now," to taking an outdoor shower in "Stop The Rain," playing a mini ukulele in "Sandman," and simply hanging out with his family at home in "First Times."
"I had a really fun day shooting my YouTube Shorts. I've always really enjoyed the music video process, so it was fun to explore a new way of doing that by channeling each song's theme in a unique way, while also giving you a sneak peek of the album!" says Ed Sheeran.
"From day one, I knew Ed and his music would have a lasting, global impact and that remains true today," said Lyor Cohen, Global Head of Music at YouTube. "Ed Sheeran is a storyteller and I am so stoked he is using YouTube Shorts to give his fans an audio and visual preview of his incredibly powerful new album. This is going to be an unforgettable moment."
Ed Sheeran is one of the top 10 most-subscribed-to artists on YouTube and presently he has four videos in the Billion Views Club including "Thinking Out Loud," "Perfect," "Photograph," and the record-setting "Shape of You," which is also the second most-viewed music video in YouTube history and the second fastest to reach one billion views.
The first two releases of the album "Bad Habits" and "Shivers," have landed Ed Sheeran 15 consecutive weeks at #1 on Official UK Singles Chart and have also led him to become the first British Solo Artist to claim 52 weeks at #1 on the Official UK Singles Chart.
Julie Greenwald, Chairman and COO of Atlantic Records remarked, "Ed's a master at everything he does – whether it's in the studio, on stage, or in the amazing series of videos he's made over the past decade. He's a charismatic storyteller, and YouTube Shorts is a great platform for him to give the world a sneak listen to his brilliant new album."
To discover the '=' album preview on YouTube Shorts (on any mobile device):
How to create your own #SheeranShorts (on any mobile device):
Watch any #SheeranShort on his

Official YouTube Channel

.

Tap on the bottom right square with the moving sound bars and then click on the "Use this sound" (blue bar) to create a #SheeranShort with the same album track.

Hold the "Capture" button (red circle) to record your Short video.

Tap "Done" followed by "Next" to add video details.

Be sure to include hashtag #SheeranShorts.

Hit "Upload" and you are good to go!