The digital realm is a fast-paced world and staying ahead of the curve is the only way to success. YouTube, the video-sharing giant, has introduced an exciting new feature that's making waves in the digital news publishing industry. During 'Google for India 2023,' the annual event, YouTube unveiled its immersive watch page experience for news stories, aptly named the YouTube's Watch Page for News. This groundbreaking development is exclusively available on mobile devices and is poised to redefine the way users consume news. Let's delve into what this new feature entails and its potential impact on digital news publishers.
What Is It?
The YouTube Watch Page for News is designed to enhance the news-watching experience for users. When users open a video marked with a newspaper icon, a new YouTube watch page will appear, suggesting more news content from a "range of credible and diverse voices."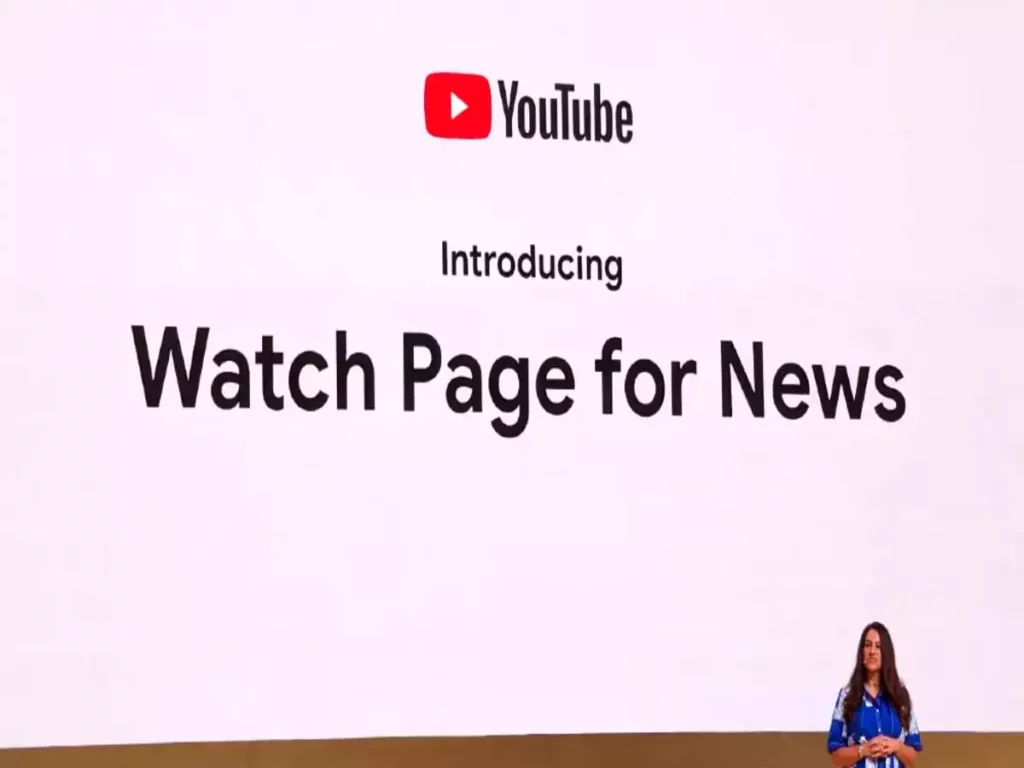 This updated layout aims to streamline the discovery of relevant long-form videos, live streams, podcasts, and Shorts related to the content currently being viewed. The feature has been rolled out in 40 countries, including India, making it accessible to a wide audience.
Impact on Digital News Publishers
The introduction of YouTube's Watch Page for News is set to have a varied impact on digital news publishers in India, categorised into three main groups
Traditional Video News Channels
For established news channels, this feature offers an opportunity to consolidate their content in various formats like VODs, live streams, shorts, podcasts, and explainers. With this users can easily find news content based on recency and enjoy a better user interface. This may lead to increased user engagement, especially for those looking for in-depth news coverage.
Native Digital Video Publishers
Businesses native to the digital video publishing realm stand to benefit from this feature by optimising their content for YouTube. Repurposing news content for the platform can attract a larger viewership and offer independent creators the opportunity to enhance their content. Smaller teams with dedicated followers may see their efforts pay off in terms of increased exposure.
Text-Based News Outlets
On the other hand, traditionally text-based news outlets may face challenges in transitioning to high-quality video content due to the significant production costs involved. There's a mismatch between the costs and the revenue generated through ads, which may hinder their ability to compete effectively. However, only time will tell if the ad revenue can compensate for the investment required.
Credibility Concerns
One of the key concerns raised is the definition of "credible news sources" on the YouTube Watch Page for News. Abhinandan Sekhri, Co-founder and CEO of Newslaundry, questions the characterisation of the news sources and the platform's ability to verify credibility. This raises issues about the accuracy and quality of news presented on the platform.
Google's Strategic Move
The introduction of YouTube's Watch Page for News reflects Google's strategic shift in the digital realm, setting it apart from competitors like Meta and X, who have been moving away from news. Google's focus on news can be seen as a move to capture a greater share of the advertising market. Experts believe that Google's emphasis on news is a calculated decision to boost advertising revenues, especially in light of Facebook's retreat from the news genre. This strategic shift is expected to open up new opportunities for advertisers, which will benefit both the platform and publishers alike.
Designboom
YouTube's Watch Page for News is a significant development that promises to change the way we consume news on the platform. While it offers several advantages for various types of digital news publishers, there are concerns about the definition of "credible sources." Google's strategic focus on news is expected to bring in more advertising revenues, ultimately benefiting the platform and publishers. As the digital news landscape continues to evolve, it's clear that YouTube is positioning itself to play a pivotal role in shaping the future of news consumption.