Twitter Creator announced to facilitate more engagement by using collaborative tweets and making better use of social media platforms.
This new feature could be handy for influencer collaborations and cross-promotions, facilitating reach to the audiences of both users. Facebook and Instagram have both added co-creation options in recent months, providing a means for users to collaborate on posts, and now Twitter is stepping up the game by becoming the latest to try out collaborative tweets.
This new Twitter update will work as a good way to credit original creators.
Share a Tweet, share the cred.

Now testing CoTweets, a new way to Tweet together. pic.twitter.com/q0gHSCXnhv

— Twitter Create (@TwitterCreate) July 7, 2022
Whether it ends up being as valuable on other platforms collaborative Tweets will become a major, transformative addition. But as noted, there are various use cases that could apply, which could make it, at the least, an interesting consideration.
As you can see in this overview, the new co-tweeting process, which is now in limited testing, enables users to invite another account to contribute to a single tweet.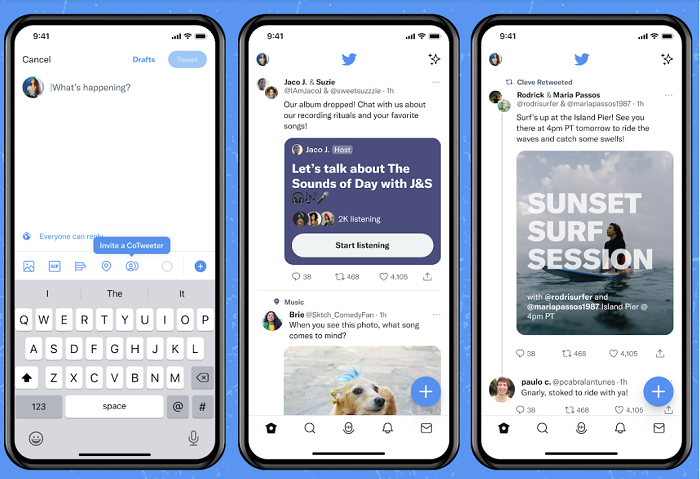 As seen in the tweet below which is posted by app researcher Alessandro Paluzzi, Twitter's testing out the Initial Test of Collaborative Tweets.
According to the tweets, users can send an invite to "co-tweet," which the invitee can subsequently accept or decline. Essentially, a user can't just add another person to a tweet without permission. If accepted, the written tweet will apparently show on both users' timelines.
#Twitter continues to work on the Collabs feature 👀

Let's see how it works 👇🏻 pic.twitter.com/Co7uOUVxzN

— Alessandro Paluzzi (@alex193a) March 29, 2022
Twitter says that co-tweeting will be available for a limited time, during which select accounts in the US, Canada, and Korea will be able to initiate a co-authored tweet with other accounts.
And if its initial testing shows prominent engagement, it may turn out to be the new tweeting option.