Ever since artificial intelligence (AI) was introduced to us, it has become an indispensable part of our lives. AI exists in almost every sphere of our daily routine. And now it has made its way into health and diet as well. The Whole Truth Foods has launched its own, fact-checked TruthGPT to give information about food and fitness. It's a GPT that allows easy, contextual access to The Whole Truth Foods' knowledge bank. While Elon Musk has been trying to make TruthGPT in a bid to "understand the reality", the Indian brand is already at it.
The Whole Truth (TWT) Foods company has been all about honesty, and thus, we now have our very own TruthGPT, an AI-powered Chatbot. A GPT that's trained on all of TWT's original, expert, deeply researched, food and fitness content, it is an example of what good AI can do for journalism and health. TruthGPT is an LLM trained on "fact-checked" dataset, which is the company's verified fitness and food dataset. The platform is powered by Fini, a YC-backed company that has been building chatbots for companies using their proprietary algorithms such as Uber, Lancey, and many others.
The Whole Truth Behind TruthGPT
The brand stated that they're on a mission to re-build the world's trust in its food. And solving food and fitness journalism is as important as solving food itself on this mission. With TruthGPT, The Whole Truth is operating at the intersection of cutting-edge technology and journalism. Mehta explains why they made this, how it works, and why a food brand is tinkering with LLMs, in the latest edition of Truth Be Told, their weekly food and fitness newsletter. They gave their blog readers an exclusive two-day access to TruthGPT.
"Try it, and give us feedback. Please. Help us perfect it before we release it to the world," urged Shashank Mehta, Founder of The Whole Truth Foods. They also held a contest on their Instagram page, urging everyone to try TruthGPT and ask it as many questions as they'd like. The three most useful, most helpful, or most funny pieces of testing and feedback would get a surprise TWT hamper.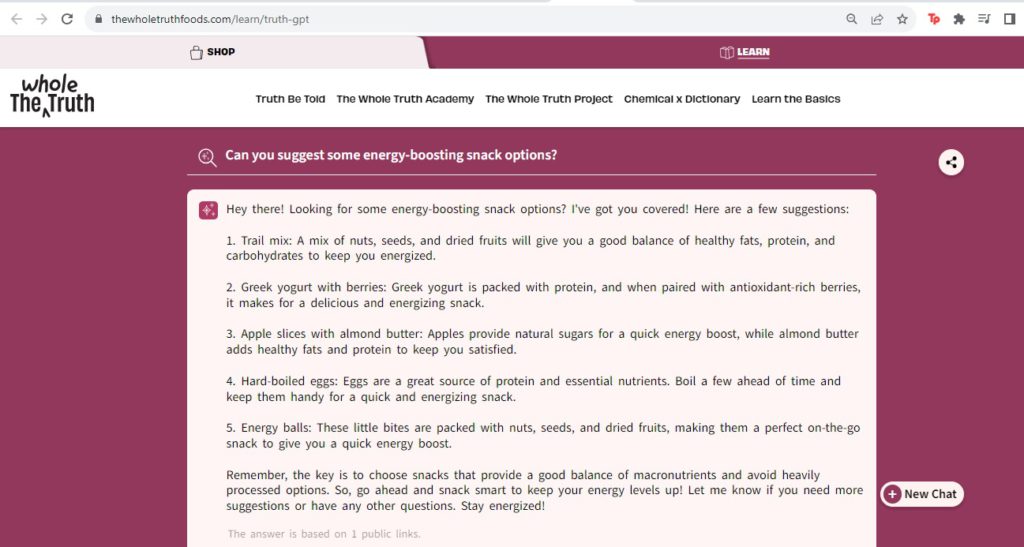 Shashank asked ChatGPT, "Tell me the dangers of AI for journalism in 50 words," followed by "Tell me the benefits of AI for journalism in 50 words." There was a subtle difference between the respective two answers that he got from the text-generating tool. AI thinks AI is beneficial when used as a tool, as an aid, for humans doing journalism. But it's dangerous when it starts becoming the journalist itself. This proves to be a very important distinction.
Why AI With A Food Brand?
A year into researching and putting out content on Truth Be Told, Shashank and the brand are now convinced that 'what you read and believe shapes what you eat and repeat.' Thus, the idea of the AI chatbot came to be, since that's what will continue to shape the future of journalism. They suggest that we can use AI for good, as a tool and leverage its impressive abilities to make food and fitness journalism more accessible. TruthGPT not only gives you the whole truth about food & fitness, but it does so with a sassy flavour, a dash of humour, and just the right amount of facts.
Every aspect of TruthGPT is embedded with AI. Even the feature image of this article (picked from TWT's blog) is the imagination of TruthGPT – rendered using Midjourney, an incredible AI tool for images. Here's the exact prompt they used: "Show a classroom full of adults, no kids, with an AI robot teaching them about health, food, and fitness. The board should have illustrations of food which are clearly visible. We want to see the back of all the adults sitting in the class so that we can see the robot and board from the front. Make the robot look cool, fun, and approachable."
Why Turn To AI?
Since TWT began, people have loved its content. But the one issue they face is, it's too long. The articles are information-dense but take time to read and consume. Especially when you're looking for the answer to a simple and specific query like 'Is olive oil good for frying?' But to get there, you have to browse through a 2000-word article about all oils. But at the same time, the biggest problem with listicles and 30-second reels is the loss of context, which turns journalism into clickbait joke. Information and education, which is the the whole point of the content being put up, ends up getting lost.
So the company had to choose between: long-form writing with context and deep research, or quick-to-consume information that could be inaccurate and questionable. Thanks to LLMs, they get the best of both worlds. So now, if you have a specific question like 'Should I have whey protein during pregnancy?' or 'Is it cool to have black coffee first thing in the morning?' – you can ask TruthGPT. But just like all things AI, TruthGPT is experimental. "No matter how much we test it, I'm sure there are broken parts we've not yet discovered. Please help us discover them. Help us train, and make TruthGPT useful." says the company.
ChatGPT vs. TruthGPT
How does one use ChatGPT? You ask it the same questions you used to ask Google. But unlike Google, it answers in sentences rather than click-baity links, and with context. ChatGPT is trained to use the whole world wide web (www) to source knowledge. That's why its answers are usually generic. And given all the falsities and misinformation the web contains, it becomes that much more difficult to trust ChatGPT's responses.
That's the problem TruthGPT aims to solve. TWT believes that the real power of this new tech lies in training them on sharp, small, specific, and limited datasets. "This is what we want: a bot that answers only queries related to health and fitness. And from sources we trust are reliable. And does so specifically, accurately, and without bias. That's TruthGPT—our attempt to show how AI can serve good journalism" says Shashank.
The Threat
Although, it is important to keep a leash on Large Language Models (LLMs). They are way too powerful, and if they end up in the wrong hands, the repercussions could be immense especially when AI itself warns us that it tends to amplify bias and lacks judgement. The mechanics of our content ecosystem are such that polarised and shallow content gets more eyeballs. This means the incentive to continue using LLMs as journalists is high. We can't stop this, but we can create examples to the contrary. Like TruthGPT.
Indian influencers and developers have been bullish on developing their own LLMs and have created platforms like KundliGPT, GitaGPT. But when a company claims they are going to give dietary advice to people, they have to make sure adequate research and fact-checking has been done before dishing out answers and opinions. Let's see how TruthGPT evolves and how the wider public takes to it.