Spotlight: Untold stories, inspiring journeys & unfiltered insights of your favorite creators!
In the world of creativity, the art of mimicry and content creation stands out as a fascinating blend of talent and entertainment. And one rising star who has mastered this craft is 'Ronit Ashra.' He has captured the essence of perfectly mocking others and making it his own. Ronit is a true wizard in the world of mimicry and content creation, and he has carved out a unique path filled with laughter, expressions, creativity, and some unforgettable clothing and accessories.
With a flair for recreating and an eye for noticing the smallest of details, he has cultivated a devoted following who eagerly waits for every video. The Social Nation team recently had the pleasure of chatting with this talented individual, so get ready to dive headfirst into his world. Join us as we explore his journey, his favorite mimicked personas, and the creative process that keeps his audience hooked.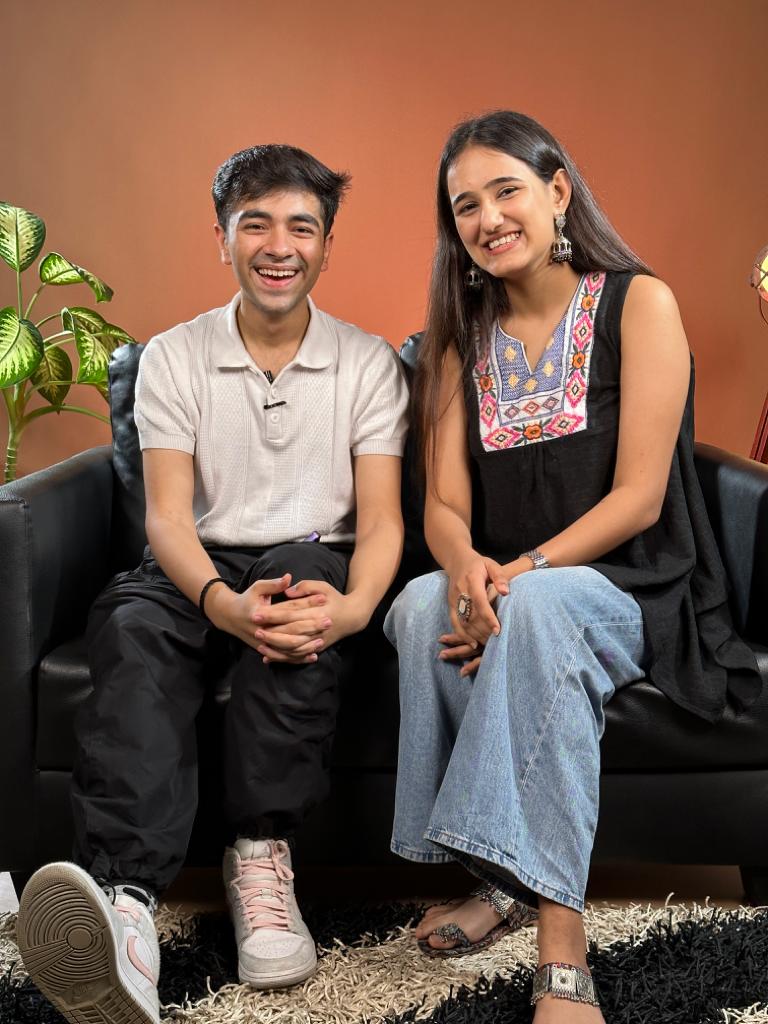 Ronit Ashra, let's start with your journey. How has it been up until now, and how was it when you started?
Currently, I'm just thinking of achieving 2 million followers on Instagram. Then, I would wholeheartedly be happy because my journey from 0 to 1 million has been quite quick yet remarkable, and this whole period is what I would consider the best moment of my life. I've put in a lot of hard work, and it has paid off in a fun way. I am beyond grateful for that.
We all remember your videos because they are always so much fun to watch, and it was so different from what other people were doing that it made us all re-watch and got us hooked. So, tell us something about how you got the concept and idea.
So, my journey started over the past 6-7 years, when I used to create content on TikTok. I would watch videos, and I remember I tried to recreate one of Alia Bhatt's roast videos. I wrapped myself in a blue towel, and somehow, my expression and face matched. That's how it started.
Ronit Ashra, tell us the idea behind your name, 'The boy in a wig.' Was it a name given by your viewers, or was it all your idea?
To be honest, I got inspired by BB Ki Vines, so I wanted to keep something creative and fun like that. That's how 'The boy in a wig' name came about. I still dream and envision seeing my name written on YouTube Fan Fest, and people recognizing and screaming my name.
Next, we want to know how you choose the videos you want to recreate, like which ones you would like to mimic, and how you finalize the concept.
So, my Instagram algorithm is full of interviews, and I watch them because they're always on my feed. While watching them, I usually make my own cuts and videos, so I choose my timestamps accordingly for the ones I want to recreate. I also try to keep up with the trends. You can watch my latest 'jhumka' trend I did.
How do you capture the minutest details and expressions? I mean, we have observed that you even recreate the eyebrow raise and, of course, the detailing on accessories and clothing, down to the expressions.
So, currently, I'm learning acting as a profession, and because of my on-the-spot mimicry, people have faith in me that I can also portray characters very accurately. I think it's a God-given gift for me, noticing and accurately putting it out in my videos, as there's no other explanation for it.
How do you prepare yourself for it, and how many takes does it normally take to capture perfection?
So, it depends. Sometimes, I've also taken two days for two takes to get that perfect shot for a video. For example, my video about Kiara Advani's wedding. I was very determined that I wanted to do this perfectly, and you won't believe it took me a whole day just to recreate it.
Now, coming to our favorite thing, the costumes and accessories. I mean, someday we see you wearing a garbage bag dress and making accessories from silver paper. How does that happen? What's the ideation behind it?
So mostly, for the ideation, it's me, but I also have a very supportive team to help me. As for the props, when I'm just walking around the house, I tend to pick up random things that would work best for accessories. It indeed is challenging to get the proper color and shape for them. A lot of people, when we just do mimicry, think of it as having no value because it's just copying someone else's clip. So, in addition to that, I added these accessories, which help to increase the craze and add entertainment value for the audience.
Do you remember your first viral video? Tell us about it – how did you feel, and what is that one memory of that video that stays with you forever?
So, it's a very vivid memory of me playing PUBG, and I got a call from my friend. He told me that some meme page had posted my reel but hadn't given me any credit for it. That was the first video that went viral; it was Ananya Pandey's video. Slowly, I started seeing more meme pages sharing it, and that's how my journey of making more videos continued till now.
Up until now, we know you've mimicked a lot of celebrities, but if you have to choose your favorite one that you enjoy doing the most, then who would that be?
So the answer for both is one, and that is Alia Bhatt. She has been my favorite, and she was also the first celebrity that I mimicked. And yes, also Karan Johar, because there are so many expressions to catch, and they also take it in a good way, so I really enjoy doing them.
Ronit Ashra, what is more important to you, content creation or acting? And who are your top three favorites that you like to mimic?
Acting is what I enjoy doing the most; content creation is more like a hobby. I mean, sometimes for content creation it becomes a little hectic when I'm shooting until three in the night, then early morning going to college can become a task. Yes, a similar stance can happen even when I'm acting, but then I feel acting would be more fun. And well, for my favorites that I like to mimic then it would be Alia Ma'am, Ananya Ma'am, and Ayushmann Sir.
As we wrap up this exclusive interview with the talented Ronit Ashra, one thing is clear – his journey is a testament to the power of creativity, dedication, and the ability to make people laugh. We can't wait to see what funny faces, backgrounds, clothes, and accessories Ronit has planned for us next.
The world of mimicry and content creation is brighter with stars like him, and we can't wait to see what he brings next. Stay tuned for more laughs, entertainment, and heartwarming moments from Ronit Ashra!