According to Meta Blog, for the 2022 World Cup, Meta is attempting to prevent any potential abuse by outlining the various tools it has in place to shield players from attacks in its apps.
It has also issued a warning to users of its platforms, emphasizing that abusive behavior will not be tolerated. This comes after numerous English players were targeted with racial abuse, primarily via Instagram DMs, following England's defeat in the Euro 2020 final.
As a result of the incident, which drew widespread attention, Meta and other platforms implemented a number of new mechanisms to better safeguard users from DM attacks.
To further help, Meta has detailed its improved selection of IG protection and control options. These include the ability to entirely disable DM requests and limit who can and cannot comment on your posts.
As per Meta:
"We have clear rules against bullying, violent threats, and hate speech — and we don't want it on our apps. As well as responding to reports from our community, outside of private messages we also use technology to proactively look for content that might break these rules.
Where our technology thinks a piece of content may be violating it will take action, whether that's sending it to our teams for review or – if it's really confident – deleting it automatically."
"Since launching Hidden Words last year, more than one in five people with more than 10,000 followers have turned it on. We're also testing turning it on by default for people with creator accounts, which includes many footballers playing in the World Cup."
Additionally, Instagram users can filter out comments, story replies, and DM requests that contain potentially objectionable words, phrases, and emojis using the "Hidden Words" option (moving them to a separate folder).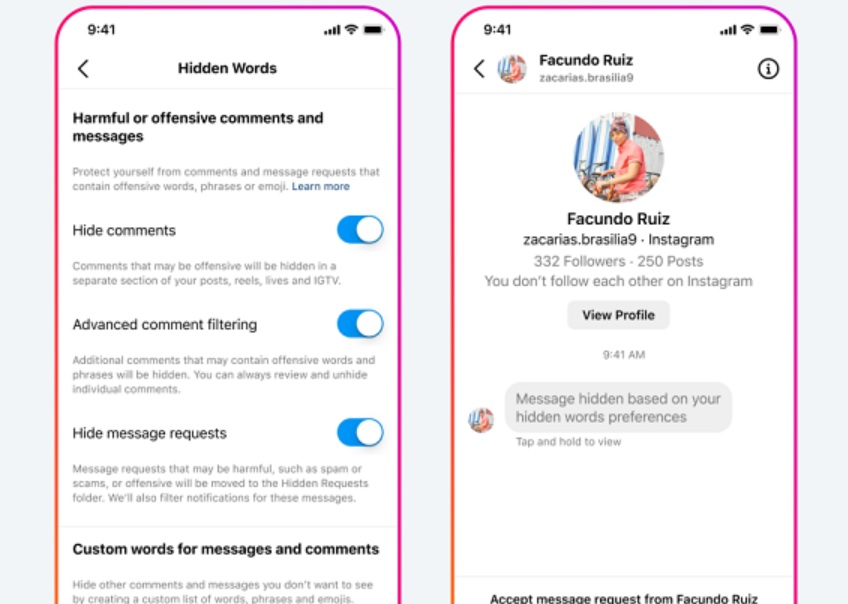 Additionally, Instagram has a new "Limits" option that allows you to hide DMs and comments from users who are either new followers or don't follow you at all.