Kareena Kapoor Khan is a talented Bollywood actor known for her impactful role in a plethora of movies but there is no denying the fact that she is the OG fashionista who knows how to make heads turn. Kareena is known for sphere-heading fashion movements and breathing life into new trends. This time, she has taken her fashion game to new heights as she appeared doing a scintillating photoshoot for 'Dirty.' Ever since the photos from this photoshoot have been made public, netizens cannot stop talking about it. The social media is flooded with compliments for our real-life Poo who proves every single time that age is merely a number. As much as netizens love Kareena's bold and sultry look, the write-up that followed did not sit well with a lot of people, stirring a controversy. 
Stunning Visuals
Kareena Kapoor Khan graced the digital pages of Dirty Magazine in a bold and daring photoshoot that aimed to capture her allure and charm. The shoot presented Kareena in a variety of striking looks, each portraying a different facet of her personality. While each look might be strikingly different from the other, her glamour remains constant. 
Fashion Choices
In the first cover, Kareena adorned a shining, sheer Manish Malhotra gown, shimmering with sequins that accentuated the glamour of Bollywood Diva. The ensemble exuded a captivating enchantment, accentuated by equally stunning drop earrings and shimmering eye makeup, showcasing Kareena's innate elegance and poise.
The subsequent covers showcased her versatility, from a chainmail chic retro-inspired look from the H&M x Rabanne collection to a Shehla Khan lace gown exuding modern romance with a sultry edge. It's been some time but we have not been able to overcome the lure of these looks. 
Insight into Dirty Magazine
Dirty Magazine, known for its avant-garde approach and boundary-pushing content, often captures attention with its unconventional editorial choices and bold narratives. While the magazine aims to challenge norms and provide a platform for creative expression, the recent controversy has brought attention to the fine line between pushing boundaries and maintaining respect and dignity in portrayal.
Controversy Surrounding the Write-up
Aishwarya Subramanyam who is popularly known by her Instagram handle 'Otherwarya' finishes a write-up that went with the photos. Aishwarya and the magazine faced backlash due to the article written within the publication that sparked controversy and heated discussions among netizens. The contentious did not only objectify Kareena using inappropriate words but also sensationalised and glorified workplace harassment, depicting inappropriate and objectifying narratives that triggered widespread criticism.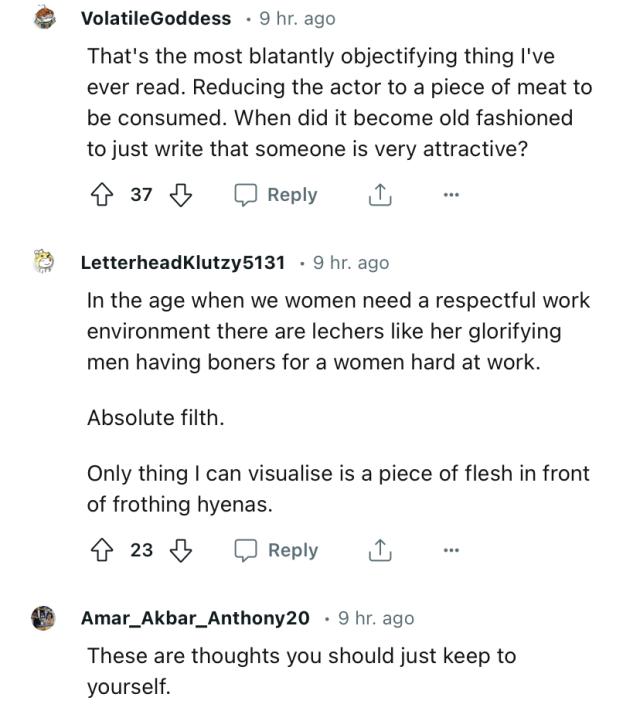 Netizens expressed their dismay and discomfort, condemning the article for its portrayal of men preying on the actress with inappropriate intentions. Criticisms focused on the demeaning nature of the write-up, reducing a respected actor to mere objectification and her skin.
Impact and Reflection
This controversy ignited debates around the responsibility of media and celebrities in shaping narratives, particularly in sensitive areas like workplace dynamics and respect for individuals' dignity. It highlighted the need for more conscientious content creation and representation in the public eye.
While Kareena Kapoor Khan's photoshoot displayed her grace and versatility, the controversy surrounding the article in Dirty Magazine raised pertinent questions about the portrayal of individuals in media. It underscored the significance of responsible and respectful content creation, emphasising the influential role words play in our virtual world and in shaping societal perceptions and conversations.