It is the month of Pride! The celebrations are ongoing all over the world. From people's support to brands' inclusiveness for the queer community, we have all come a long way. There are all kinds of pride movements going on to support the people. There are many brands rolling support through pride campaigns.
LGBTQ+ members and supporters have seen a lot of struggle and while now many brands show they accept all the love and races, there is still some disparity among people and complete acceptance is yet to be achieved. Here are a few brands that we came across which have come up with Pride Campaigns.
Hulu's "Pride Never Stops"
Hulu, the American subscription video streaming service which is owned by The Walt Disney Company is celebrating Pride month in its way. Disney announced details on this year's "Pride Never Stops" campaign, which will include live streams of LA and NYC Pride Parades, a first for the platform, and highly-anticipated premieres of Fire Island, Glee, Mormon No More, Wildhood, and more.
Hulu launched its "Pride Never Stops" campaign in 2019 as a commitment to celebrating and amplifying LGBTQIA+ voices year-round. This year, in honor of Pride Month, the streaming platform continues that tradition by finding new and unique ways to elevate LGBTQIA+ stories and events as well as the incredible artists behind them.
As Hulu continues to diversify its live content offerings, for the first time, the platform will Livestream both the Los Angeles and New York City Pride Parades to all Hulu subscribers. Both parades will be available via the "Pride Never Stops" hub, and remain viewable on Hulu for 30 days after their respective live streams.
Infosys's Pride Campaign 2022
The Indian company Infosys Limited is an Indian multinational information technology company that provides business consulting, information technology, and outsourcing services to other companies and people. The company has come up with a very interesting video advertisement that features an animated character with a rainbow heart on his chest and showcases how society tries to wipe out his true colors so that he can fit in. The film shows that when the man grows up, he doesn't let society determine the true colors of his identity, but decides to be comfortable with himself and embrace it with pride. And when he does this, his company accepts him i.e., Infosys. In a simple yet moving way, the organization has shown support.
"Don't let the world tell you who you are. Or should be. Choose any colour or, the identity you feel comfortable with. We're all different. We're all similar. Let's embrace it with Pride.", wrote Infosys.
Penguin Random House- Pride in your Words
The Consumer Marketing Team, in partnership with the Penguin Random House LGBTQ+ Network and esteemed authors, has officially dropped Pride in Your Words, their first-ever zine. Consumers can download the digital issue and can sign up to receive one of 1,000 copies of our 60-page print edition in the mail.
"We're thrilled to be releasing our first zine. It's a format we've been wanting to test for a while, and this felt like the right moment and the right audience. We look forward to publishing new issues in the future and continuing to work with the LGBTQ+ Network to create meaningful and lasting connections with our readers and celebrate our amazing books and storytellers during Pride and throughout the year," said Adam Royce, VP, Creative Strategy.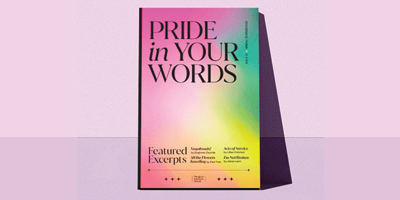 The 60-page zine features passages, interviews, and even coloring pages from queer authors' works that were published in 2022. Also featured are a 2022 Pride reading list and a guide to making your zine.
As we talk about queer inclusivity, there's someone from some brand sitting and planning, how their company can show support to each community without being biased and achieving the right plans, and so on. We hope to know more about the pride month campaigns and inform you about them. Let us know more about such campaigns if you come across them.
Happy Pride Month to everyone!