YouTube has taken a step forward with the city of San Bruno, with the city council approving the framework to guide development. Let's have a deeper look into YouTube's commitment.
YouTube has always been a home to creators and artists from all over the globe. More than 2 billion people every month come to the YouTube platform to learn, to laugh, and to find a community.
"Since 2006, YouTube employees have been working to support the platform from our headquarters in San Bruno, California. And today, we've grown to offices located across the globe. We're committed to giving back to the cities where we're based, just like we're committed to our mission to give everyone a voice and show them the world."says Susan Wojcicki, CEO of YouTube.
A few days ago, YouTube took a major step involving the city of San Bruno. The San Bruno City Council has approved of a 20 year framework to guide development around the office park where YouTube's headquarters are based, including an expansion plan for YouTube offices. The City of San Bruno's decision is built upon years of planning to ensure YouTube's growth benefits their community.
The first YouTube offices were located above a pizzeria in San Mateo, a nearby Bay Area city and their move to the city of San Bruno, fifteen years ago, was made possible because of the City's decision to design a land use plan that provided for the development of offices near major freeways, public transportation hubs, and an international airport.
Over the years, as YouTube grew, it started to meet with the City Council and City staff to develop a plan for its expansion that would also create opportunities for San Bruno to thrive.
"At YouTube, we believe development isn't just about building the best offices, it's about doing our part to solve challenging problems and help our neighborhood thrive. Over the past year, we've seen the impact of the pandemic as local businesses closed, communities were disproportionately impacted, and many were forced to search for new jobs." Susan Wojcicki said.
YouTube's expansion project will provide more than $130 million in revenue to the community. The plan includes:
$25 million

for the creation of affordable housing.

Thousands

of new construction jobs. 

$200,000

grant to help teachers. 

$100,000

annual grant to support community organisations.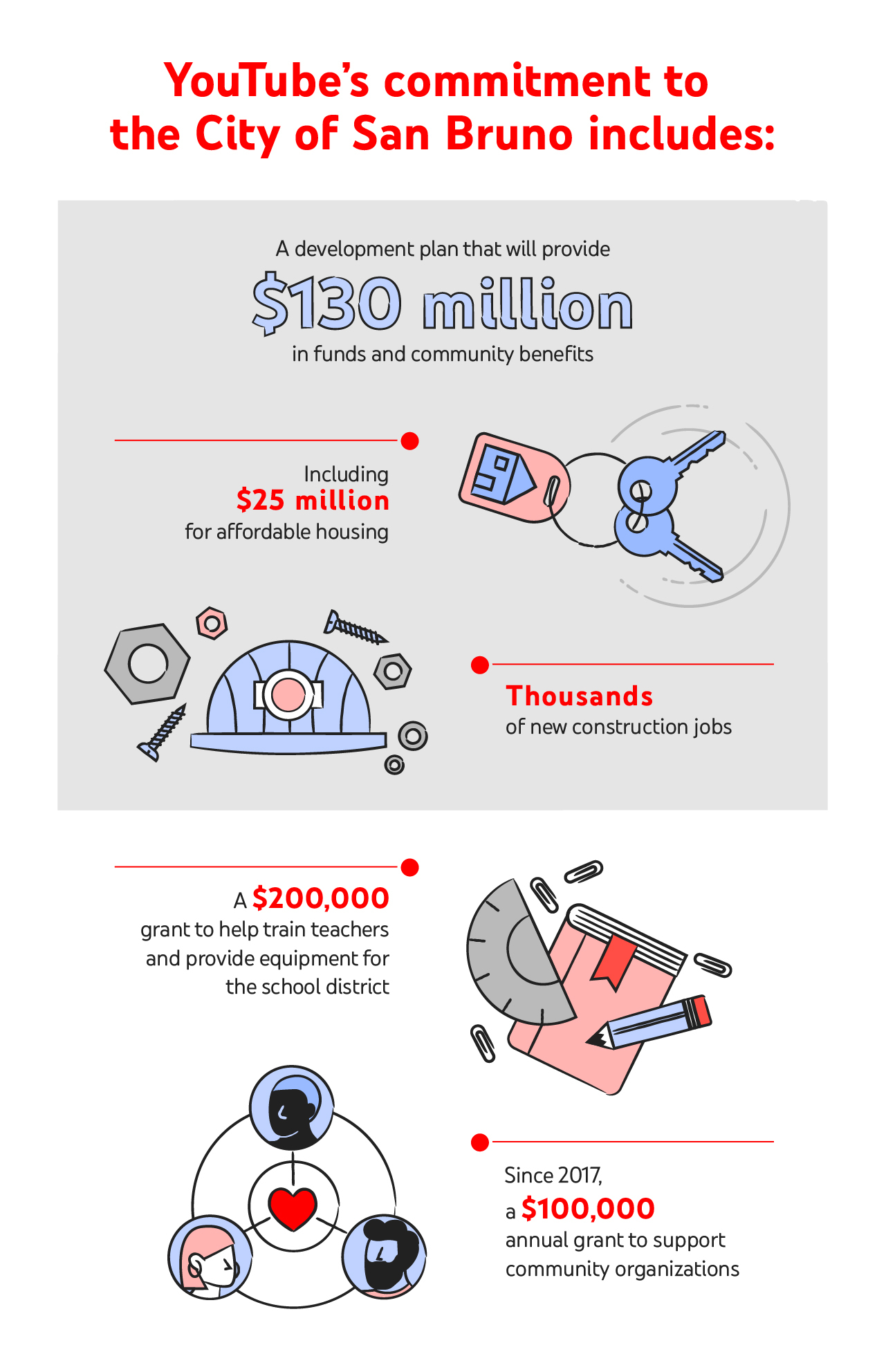 "Over the lifetime of the project, we expect that our expansion will stimulate the regional economy and help create thousands of construction jobs. We're also continuing to build and operate sustainably in this development, with all-electric buildings, pedestrian and bicycle improvements, a target of no net new greenhouse gas emissions, and a goal of reaching LEED Platinum." Susan Wojcicki said.
YouTube's investment in San Bruno is for a long term, and this week it is looking forward to putting into action the steps approved by the City Council.