YouTube has built a number of updates for their crisis response panels in order to connect with people better. These updates will be rolling out in the coming weeks, let's have a look.
During the Covid-19 pandemic, mental health has been a rising concern. According to the Kaiser Family Foundation, during the pandemic about 4 in 10 adults in the U.S. have reported symptoms of anxiety or depressive disorder. Mental health issues can be isolating and they might leave you in doubt as to whom to turn to.
"I've seen this firsthand through my work as a mental health hotline volunteer counselor. Over the past year, the volume of calls handled by our center has increased as people look for help to cope. And undoubtedly there are so many more people who need help but don't know where to turn. That's why it's so important to send the message to more people that they are not alone, and that if you're feeling depressed, lonely, or in crisis, there is someone on the other side of the phone to speak with." says Sharon Stovezky, Product Manager at YouTube.
In Sharon's role at YouTube, her team has built products that 'help viewers navigate their health questions and interests online and discover credible and engaging video content.' For several years, YouTube has been showing "crisis resource panels" on sensitive search queries "to connect people directly with organizations that are local, free, and confidential, to help them get through a moment of critical need." Now the team has built updates to their panels for better help and connectivity.
Increasing visibility of crisis resource panels
Earlier, YouTube's crisis resource panels only appeared in search results. It is now expanding them to show on the Watch Page too. This has been done as the watch page is where people spend most of their time and this would ensure an increase in the visibility of the message. These panels will appear below the videos whose content is about suicide and self-harm, "delivering a powerful combination of educational and emotionally resonant content alongside prompts to take action if needed."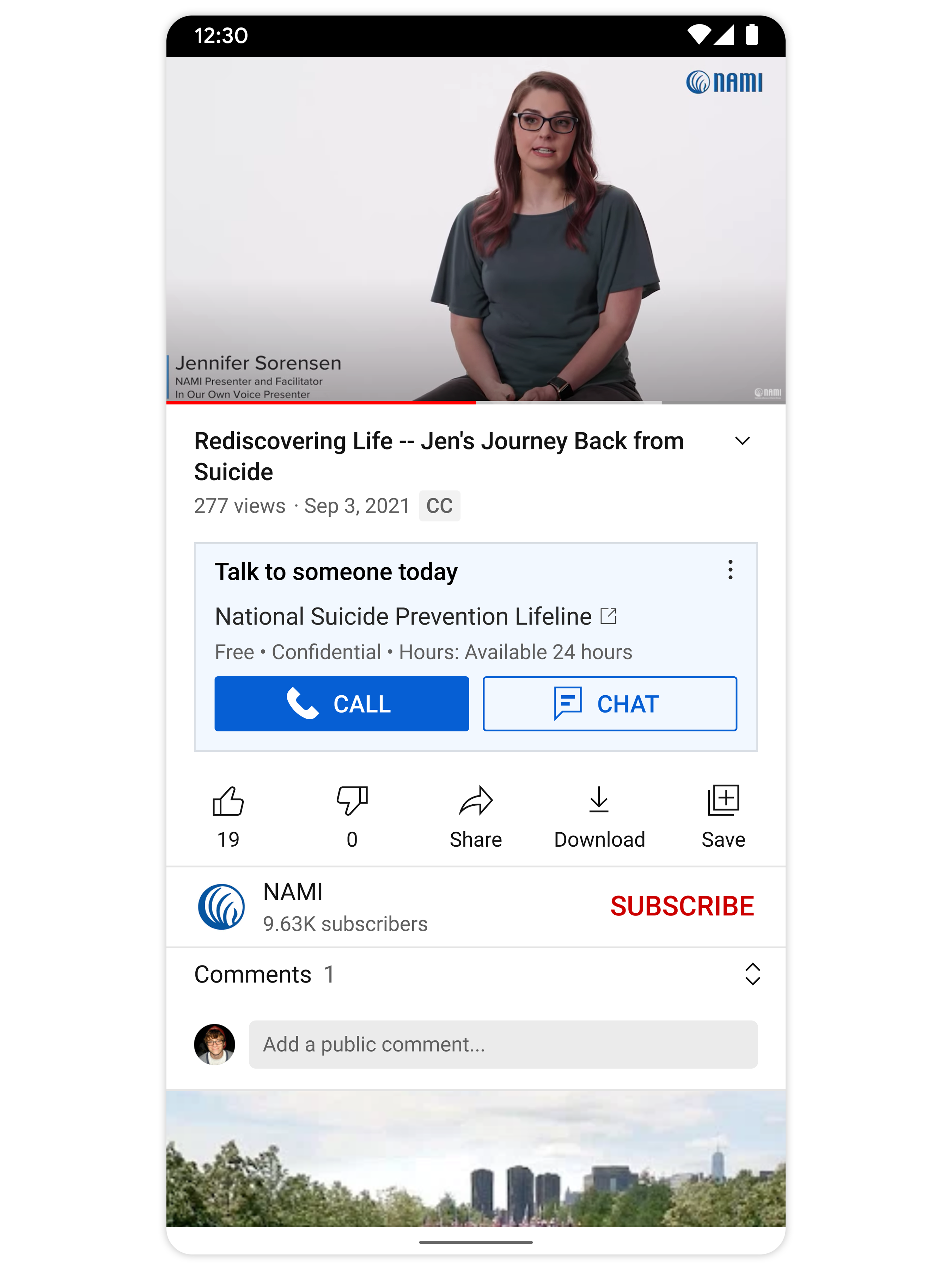 Normalize getting help
"Everyone needs help now and then. We wanted to make sure that the language and design in our panels reflect that. The new language emphasizes that services are free, confidential and available 24/7, and offers resources to call or chat a local support line." says Sharon Stovezky.
Show up across a broad range of topics
YouTube is expanding the range of topics that display crisis resources in YouTube search results to issues like depression, sexual assault, substance abuse and eating disorders.
"YouTube has always been a place where people can connect with others over shared experiences. It's also a place where people come to learn and ask questions. That's why mental health is a critical part of our health mission — we want you to be able to find the information you need when you need it, whether that is immediate support in a crisis, educational content about your condition, or long-term coping strategies and personal stories of others."
YouTube will begin rolling out these updates in the coming weeks. To find a crisis center in your area visit the International Association for Suicide Prevention.