Whatsapp has new updates and features coming up that are close to Instagram's features. The messaging application is going to work towards making it possible for users to view status from the chat window itself just like Instagram. They are also working towards bringing in the communities tab.
It's been a long time since we talked about communities: last time, we spotted a communities tab right within WhatsApp Desktop, under development. A community is a unique place where you can find all related groups, and it is possible to join it by using a community invite link from a community admin or you can be manually added (but the feature should be enabled for your account or you may not be able to interact with all the groups of the community), wrote WABetaInfo.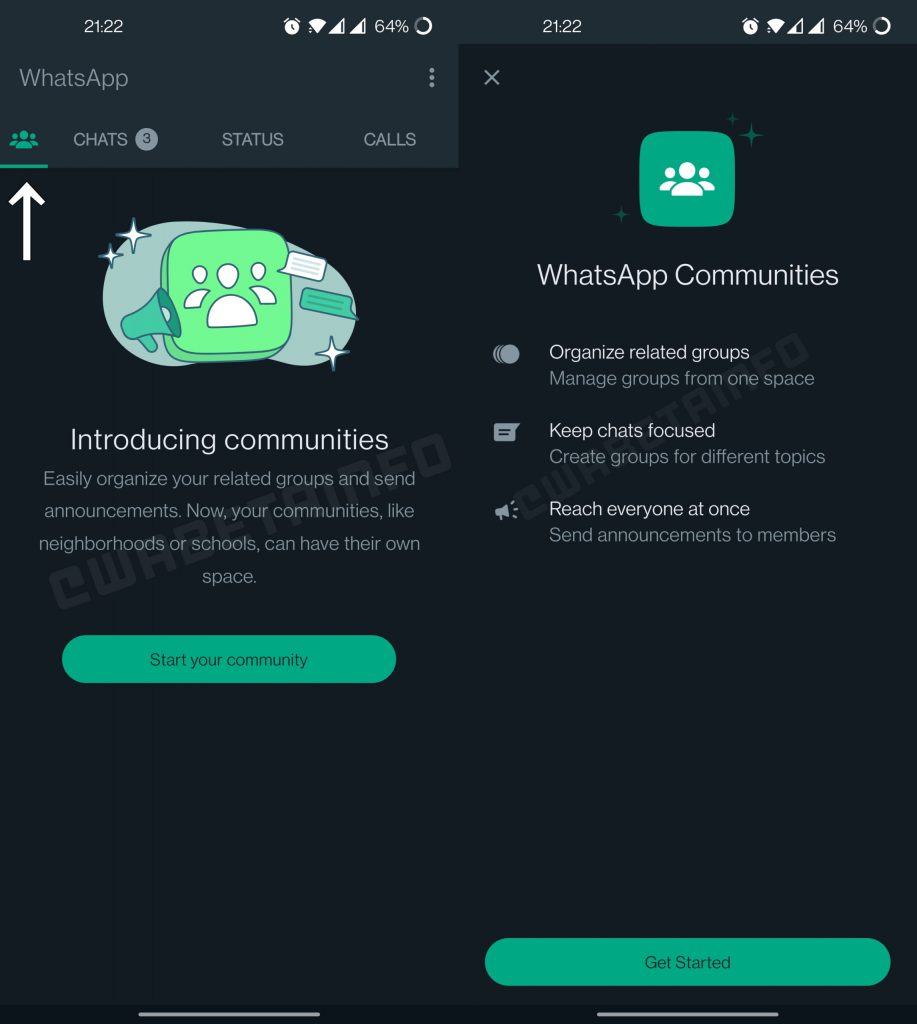 As you can see in this screenshot, it is very easy to understand if the feature is already available to your WhatsApp account: just check if the communities tab shows up instead of the camera tab. If the communities tab is available (and we recommend killing and re-opening the app after the update to test it), you can already start creating a community by adding up to 10 groups: these groups are called "sub-groups" and they support up to 512 participants. A community member can choose which sub-group to join based on their personal preferences and they can leave a sub-group without leaving a community. Community admins can also disable a community if they don't want to use it anymore, and other members can report the community to WhatsApp if it violates their terms of service.
After creating a community, a new group is automatically created by WhatsApp: it is the announcement group. Community admins can send messages that are always visible to all members of the community.
"At the moment, WhatsApp is working on hiding phone numbers in sub-groups of a community, so other members of the community cannot see your phone number. Unfortunately, this privacy feature is not included in this "first version" of WhatsApp Communities so we should expect it to be released in the future, but no further details are available right now such as the release date.", as written by WABetaInfo.
They also wrote, that WhatsApp is launching a very small test to certain beta testers so the ability to create a community is not available to everyone, and you cannot use communities if the feature is not available for your WhatsApp account, even if a community admin adds you to their community. Since it is only available to some lucky beta testers, it means that more activations are planned over the coming weeks and we will keep you up to date when there are more details to share with you.
As you can see in this screenshot, a new option called "pending participants" will show up in a future update of the app: this option will redirect to a new section available to group admins where they can review a list of all pending group participants that want to join the group.
This shortcut and the ability to approve new participants are still under development and they will be released in a future update of the Android app. As always, we will post an additional article when further details are available.