Acting is one of the hardest jobs to perform. To be able to convince people to believe you to be something you're not and to buy your truth wholeheartedly can be a tough nut to crack. Shantanu Rangnekar is one such artist who has time and again proved his merit through various mediums. A theatre artist, an actor and a content creator, Shantanu has sailed all these ships smoothly. Through his dedication, hard work and skill, he has earned himself dedicated followers who have now become his tough support structure. For SN Spotlight, we had the golden opportunity to speak with Shantanu Rangnekar about his journey. Presenting interesting excerpts from the conversation.
SN: From a folk dancer to a theatre artist and now a creator, how would you describe this journey?
Shantanu: When I was in school, I was part of a folk dance group for an annual competition. While I was practising, my teacher complimented me for my expressions and encouraged me to do theatre. This was back then when I did not know what theatre really was. Slowly I started to perform small comedy pieces at these annual gatherings at school. I had a teacher whose husband was a director, Ramesh More, who was working on the script of Champions. I auditioned for the part and got selected. The film won a National Award for the best film on social issues in 2010 and I won the National Award for the best child artist. There was one phase where I was wondering what I should do but then I eventually moved into acting and then into content creation.
SN: How did you start with content creation?
Shantanu: After resigning from my job at JWT over a theatre offer, I started to tap on my old contacts to find out about the theatre scene but nothing fruitful was coming out of it. That was the time when I started to write and explore new avenues for myself. Suddenly there was a lockdown because of the pandemic. While hopping from one reel to the other, I came across my old colleagues from my theatre days who were making situational improvisations and performing skits on reels. I found it interesting but I did not have the technological skills to make these reels myself. Friends of mine suggested we collectively make a reel. They promised to do all the hard work and asked me to only act. It was then we shot a reel. I posted my first reel on 24th December 2020 and I got a good response on the reel with nearly 10000 views. Then I realised this was something I could do. Now I am into content creation and I am liking it.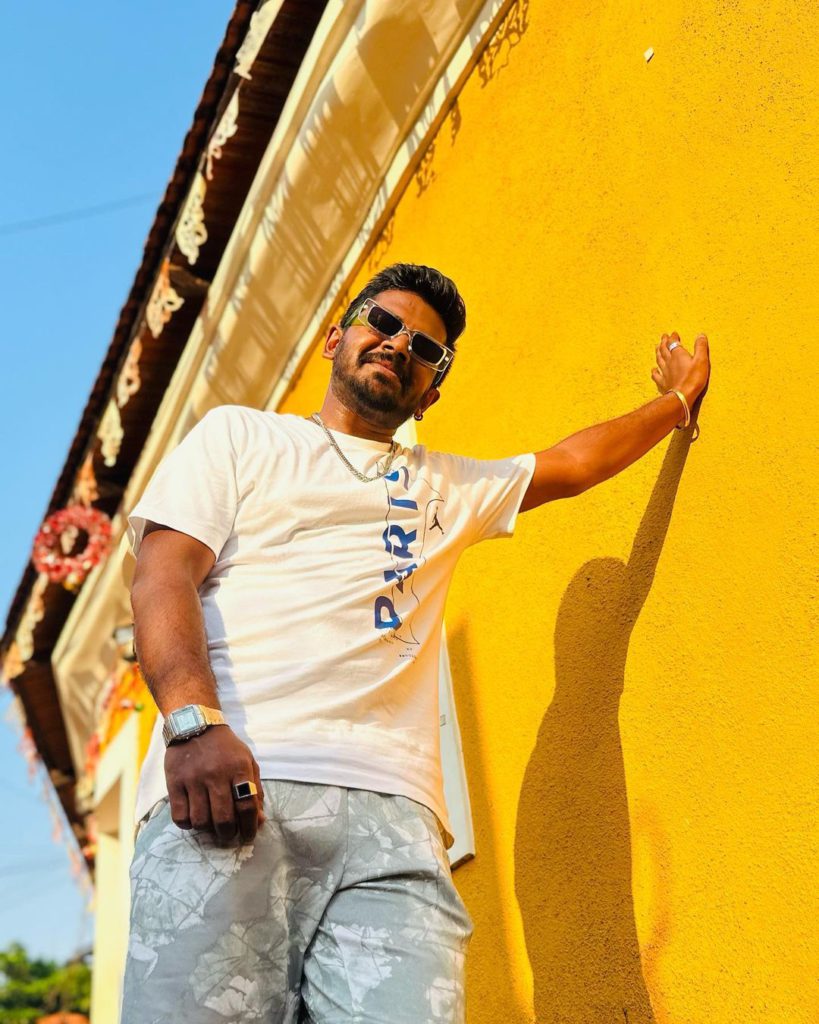 SN: Can you explain your creative process as a theatre artist and a creator?
Shantanu: Theatre is a longer process. The same does not apply to reels. I would say reels are more creative and focus on uniqueness. The newer the concept, the better a reel will perform. Theatre for me is an internal process that you live for, the satisfaction you get from the theatre is the ultimate thing. However, in reels, you're in this rat race. Consistency in theatre is very different from consistency on reels. Here you should constantly keep updating, be visible and theatre is a very close process and you open up directly to boom. Theatre is a very grounding process whereas reels are more about showing off.
SN: How important is the role of theatre today, as you have to focus on your digital audience?
Shantanu: I believe it's very important. For me, Instagram is like an audition platform. While making reels on Instagram there are two things. One is content from which you gain followers, engagement, brand promotions, etc and the second part is you get to act. Theatre is important because it grooms your acting skills and lets you prove your merit in one minute. As a theatre artist, you have a different perception and that even gets translated while creating content.
SN: A National Award winner as a child actor, is acting on the big screen, one of the goals?
Shantanu: Obviously that's something I am seeking. I am auditioning for different things. Maybe a project is in the pipeline. To be honest, I got into content creation and I am continuing it to achieve this goal.
SN: What are the similarities between working for a digital audience and a LIVE audience?
Shantanu: The similarity is people will reach out to you to meet you. However, there are many differences between the two. When you're performing a play, the live response you get from the audience is a kick. Even if one person is clapping, it boosts the morale of the artist. Whereas on reels, even 5 negative comments amongst 100 positive comments will impact you. In theatre, people are there to enjoy your show and will love you wholeheartedly whereas in reels people who are commenting might know nothing about what you're doing and yet their comment will affect you.
SN: What is the one piece of advice you would give to someone who is just starting out in the creator economy?
Shantanu: There is no hard and fast rule. If you have the passion and the guts to do everything that comes your way, you'll do good. In theatre, one gets to work on the tiniest details. On the other hand, content creation is more about your creativity. My advice would be to not get into the rat race of followers and only focus on your work.
SN: Which is the one project in your career that has given you the most satisfaction?
Shantanu: I worked on a Marathi film in 2015 called Slambook. It's a typical teenage love story. During the shot, I got to work on myself, I had the liberty to make changes to the scene and improvise accordingly. I also got to work with big names from the Marathi entertainment industry. There were many nuances I was learning about acting and filmmaking. Everybody was happy with me and I was satisfied with myself. The whole environment during the shoot was a fun one and I really felt great about it
What are the 3 big goals of 2023?
Shantanu: There are no big goals, only limited to 2023. My goals in general would be moving from content creation to mainline content. I want to work in the movies, in series and in a play.
In the world of acting Shantanu Rangnekar has the power to transform into characters that leave audiences mesmerised. Whether he is tickling your funny bone with comedic brilliance or tugging at your heartstrings with raw emotion, Shantanu has an uncanny ability to connect with everyone in the room, leaving a lasting impression that lingers long after the final curtain call.