Android is an operating system that has made lives easier over the globe for people and has only worked towards betterment to make it user friendly.
"With Android, bringing connected devices into your life can be easy. Over the last few years, we've been working with partners to build products that allow your phones, laptops, TVs and cars to work better together, regardless of the brand. And we've introduced simple and helpful ways to instantly set up your Bluetooth and smart home devices, transfer content and get things done with ease.", wrote The Google Keyword blog.
Here are the 7 ways Android is going to help you connect your devices together.
Connect devices with Fast Pair
You want to be able to immediately pair your new headphones with your phone and begin playing music after unwrapping them. Fast Pair for Android was released in 2017 to quickly locate and connect your nearby accessories to your devices.
More than 300 headphone models from companies including Beats, JBL, OnePlus, and Sony are now faster to pair thanks to Fast Pair, which was introduced then. You can connect smart home devices to your network, Google Home, and your favorite apps straight from your phone thanks to Fast Pair on Android's compatibility with Matter. To create engaging Matter-enabled experiences, we collaborate with well-known businesses like Eve Systems, Tuya, Phillips Hue, and Nanoleaf.
Send files with Nearby Share
As a convenient way for the Android community to share content with one another from their smartphones, whether it's emailing files to yourself, images to family members, or documents to a coworker, Nearby Share made its debut in 2020. With new features and support for around 3 billion devices, Nearby Share keeps expanding.
From phone to TV Chromecast
Chromecast, a $35 dongle that was introduced in 2013, is a cheap method to stream your web entertainment to your TV. Since then, we've added casting capabilities to more gadgets, allowing you to use your phone's apps and entertainment on your TV, smart speaker, or soundbar. Even easier voice-based media transfers between supported devices are possible with Google Assistant. One of our most popular Android features is casting, and there are ever more audio and video apps that are supported.
Also Read: Twitter rolls out 'Hashfetti' to enhance branded hashtag campaigns
Do more with wearable OS
A significant portion of the multi-device ecosystem is made up of wearables. Since the release of Wear OS 3 in 2021, Google has continued to invest in enhancing the Wear OS platform, and there are now more than three times as many active Wear OS watches worldwide.
With the most recent version of Wear OS, you can use the Google Home app to control compatible smart home devices like your thermostat and lights or the Camera app to take better selfies and remotely operate the camera shutter on Pixel phones. Ask Google Assistant on Wear OS to start playing a Spotify playlist right away before you go for a run, and use Fitbit or Adidas Running to track your activity on your watch. The watches that are now available to Wear OS to choose from, include the Pixel Watch, Samsung Galaxy Watch5 series and Fossil Gen 6 Wellness Edition.
Chromebook that works better with your phone
It's simple to read and reply to notifications from messaging applications on your Android phone from your laptop thanks to Phone Hub in ChromeOS. Along with making it easy to stay in touch, Chromebooks are loaded with productivity tools that make it easier to accomplish more with your Android phone. These tools include the ability to access the most recent photos from your phone's camera roll, send files via Nearby Share, and share and connect to saved Wi-Fi networks.
These features and more may be found on new Chromebooks unveiled at CES, such as the ASUS Chromebook Vibe CX34.
New TV remote for Google TV
Sometimes it's simpler to hunt for something to watch on your phone, whether your pals are informing you about a new show or you're just browsing movie collections. The sensation of watching on a big screen, though, is unrivaled. You can cast videos from your applications to a suitable TV with just a single tap using the Google TV app on your phone or tablet. In this way, you can browse, add websites to your watchlist, and effortlessly switch between TVs while using your phone. Android also enables you to use your phone as a remote control right away. This year, new Google TV devices like the TCL Q-Series TV and the Hisense ULED TVs, Laser TVs, and Laser TVs will arrive.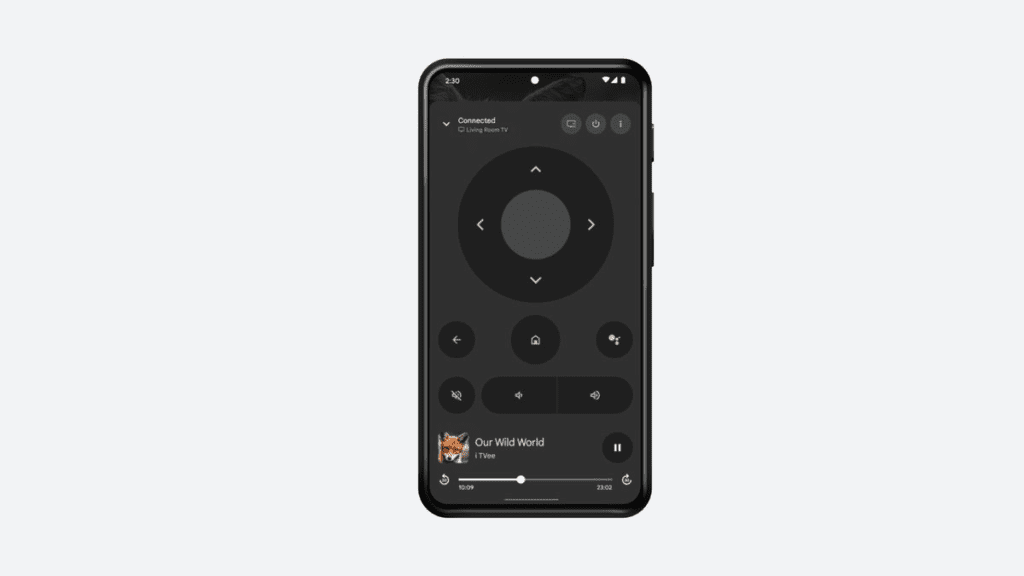 Move from your phone on the Dashboard
Android Auto's new design will make it simpler to view and access preferred Android phone experiences, like navigation, media, and communication, on the dashboard of your vehicle.
When driving a car with Google built-in, you can use Google Assistant, Google Maps, and other Google Play apps to manage the temperature of the vehicle with just your voice and even turn on the lights in your house from the car before you arrive home. The new Honda Accord, the future Polestar 3 and Volvo EX90 are just a few of the seven automakers that presently provide vehicles with Google built-in.
They are also working on more experiences for drivers like expanding the ability to use supported Android phone's digital car keys to lock, unlock, turn on and share keys with friends and family to more compatible cars.