YouTube will be hosting the YouTube Holiday Season and Shop from November 15th to November 22nd. This will be a week full of shoppable livestreams hosted by some of our favorite creators and brands, dropping special products and deals. Let's have a look
Over the past decade and a half, YouTube has evolved from a place where people can upload and share videos to a place where all viewers can be entertained. There has been an incredible growth of live as well. More than half a million channels started live streaming for the first time in 2020. "Live Streaming is increasingly becoming shopping-focused with creators going live to review products, drop new merch, and discuss their shopping hauls."
"It's inspiring to see YouTube creators grow and become valuable sources of information for new products—in fact, according to a Talk Shoppe survey in the U.S., 89% of viewers agree that YouTube creators give recommendations they can trust. We've seen creators expand beyond the screen and into consumer products, many of which you can already find on their YouTube channels and through other retailers, and we're thrilled to be able to support them on the platform in new and exciting ways. This year, with the holiday season upon us, we're excited to offer a whole new way to shop with your favorite creators with our first ever live shopping pop-up event." says YouTube.
Hence, from November15-22, YouTube will be hosting the YouTube Holiday Stream and Shop. The Merrell Twins will kick off the week, featuring products on their wish list for friends and family, from partners including Walmart, Samsung, and Verizon. The rest of the week will feature Donut Media, Gordon Ramsay, Patrick Starrr, Jackie Aina, Manny MUA, and MrBeast selling new products and offering exclusive discounts.
During the course of these livestreams users will be able to interact with creators and other fans, give feedback, enjoy exclusive discounts and product drops, and browse and checkout without ever having to leave the livestream! You can check out the full lineup below.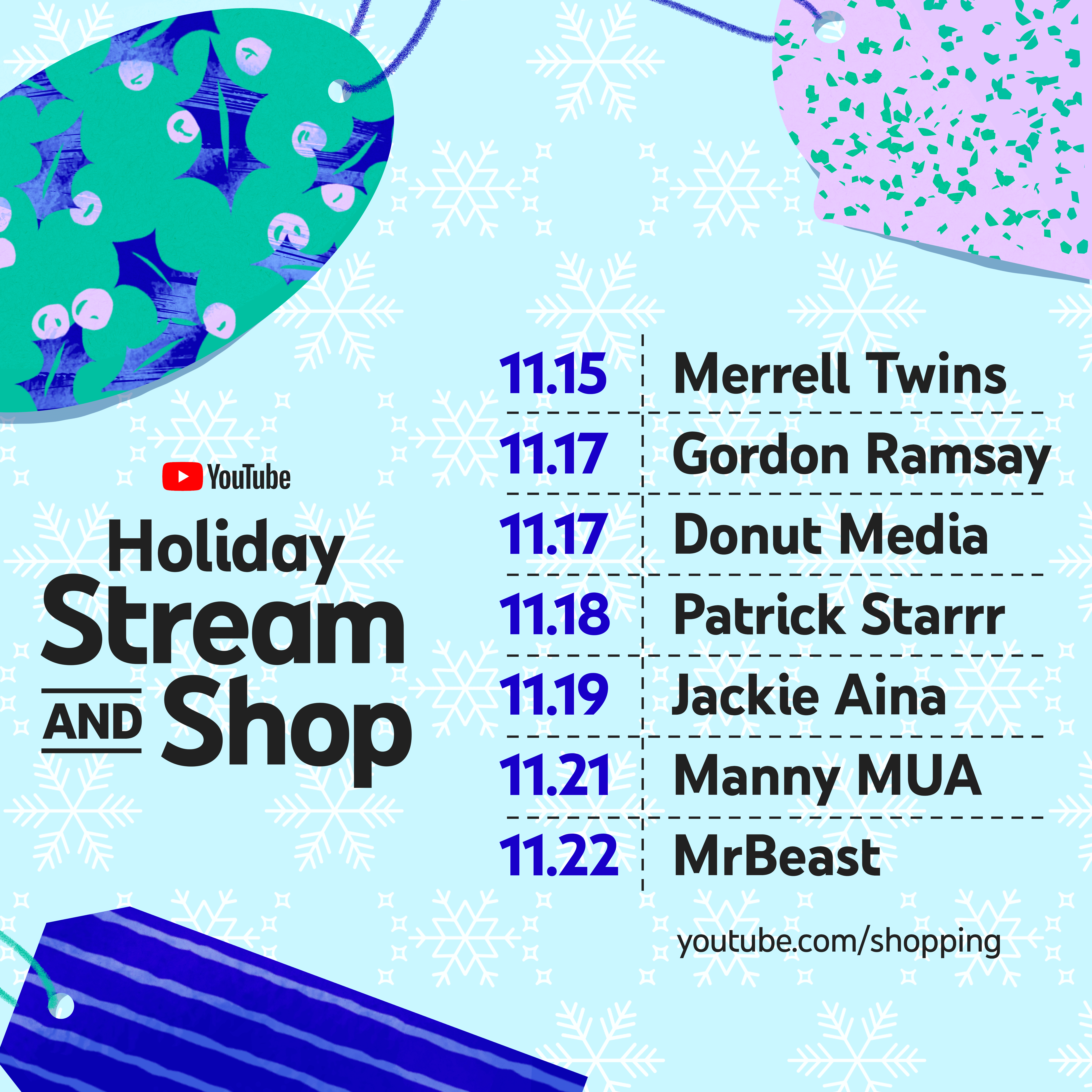 Check out youtube.com/shopping to shop live!