According to Offical Pinterest Blog, they have decided to advance its in-stream shopping tools, with the addition of several new commerce features, including Product Tagging for Pins, a Shop Tab on Business Profiles, and a new 'API for Shopping' to facilitate greater connection and integration for merchants.
First off, on product tagging – Pinterest's adding a new type of product tagging within Pins that will add more specific product details to each item within a frame.
So it's like the product tags you can use now but linked specifically to products in a merchant's catalog. the addition will provide more capacity to showcase your products within your Pin display, which could help shoppers to getting a better idea of what the product looks like in reality.
The Pinterest API for Shopping
The vision for The Pinterest API for Shopping is inspiring commerce. Pinterest is extending its investments in shopping and measurement features, including catalog and product metadata management, to enable more efficient improved data quality for merchant products. The Pinterest API for Shopping has been shown to lead to a 97% accuracy level for price and availability data.
Product Tagging on Pins
Product Tagging on Pins is our shopping feature that allows merchants to make their lifestyle Pins shoppable and helps Pinners move easily from inspiration to action. With producprodcuttagging
t tagging, merchants can add products from their catalog to their scene images. Pinners can easily shop for the exact items they love from the inspiring imagery they find.
Video in Catalog
Over the past year, we have seen promising results from video-like ad formats vs. static formats on the platform. Pinterest continues to invest in video with merchants by enabling video assets in their product catalog to give Pinners a view of the product from multiple angles when making a purchase decision and driving conversions.
Shop Tab on Business Profiles
Pinterest continues to create new tools and resources to help merchants create a more inspiring storefront and showcase products to shoppers when they're looking to take action. With the new Shop Tab on Business Profile, merchants can easily display shoppable products browsing Pinners.
At Pinterest, we're building a home for taste-driven shopping and continually investing in new ways for shoppers to browse, discover and engage with brands.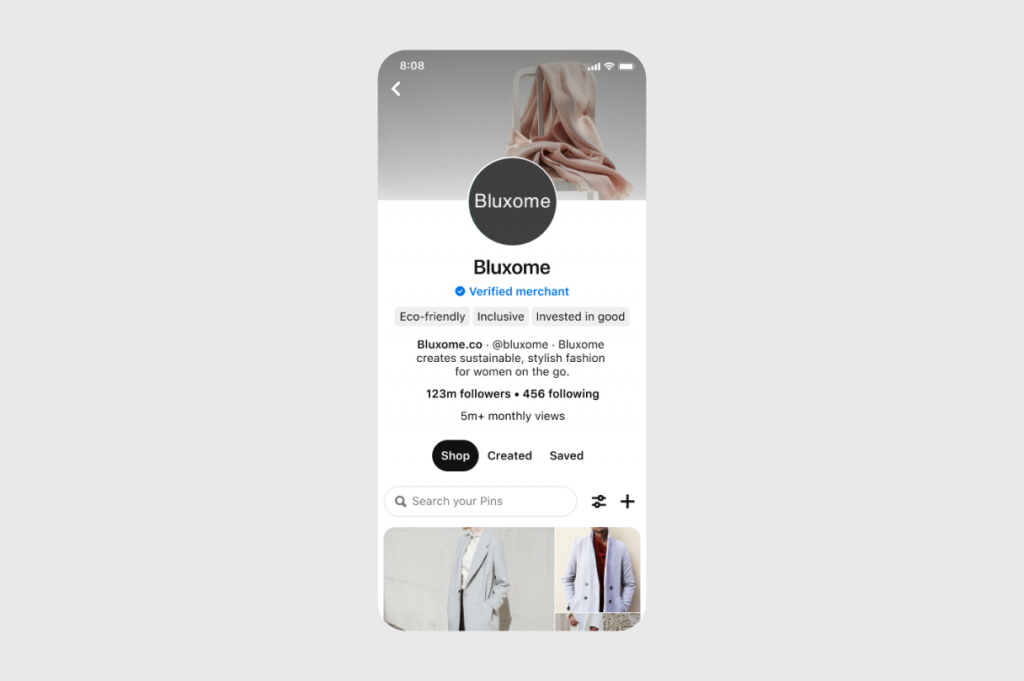 Pinterest's also adding a new 'Shop' tab to business profiles, as another showcase of your brand's offerings. Finally, Pinterest is also launching its new Pinterest API for Shopping.